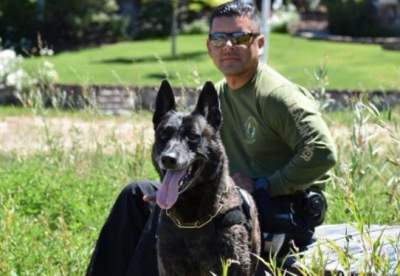 The SAPD announced the passing of retired K9 police dog Puskas who retired two and a half years ago. Puskas served the SAPD for 7 years then retired with his handler, Corporal Galeana and his family.
Puskas' handler posted this heartfelt message on Facebook about Puskas' passing:
There is no easy way to say this; my heart is broken and torn to pieces. Late last night, Puskas suddenly went ill, and I rushed him to the veterinarian.. The vet rushed Puskas into surgery without hesitation, but sadly, he did not survive. There are no words to describe the pain my family and I are experiencing. Not only was he my partner and protector, but he was also a helluva watchdog at home. Puskas was one of the best police dogs out there, and we will miss him deeply. Thank you for your service, Puskas. Thank you for always watching over my family when I'm away. We love you and always will. RIP my Puskie.
Puskas' teeth were knocked out in February of 2018 when he chased down a carjacking suspect, Antonio Padilla Jr.
Padilla was arrested on February 26, 2018, a week after he attempted to run over a Garden Grove Police motor officer who had pulled him over for speeding and was writing him a ticket. The officer managed to jump out of the way and was not harmed.
Garden Grove police tracked Padilla's vehicle to Santa Ana on February 26, 2018, and asked Santa Ana police to assist in stopping the defendant.
Padilla refused to stop for police, and began driving more than 60 miles an hour on surface streets while running stop signs and traffic lights.
The high speed pursuit continued into the City of Irvine, where he dragged a 22-year-old woman out of the SUV she was driving and carjacked her. The woman's brother witnessed the carjacking and began struggling with Padilla. While the two men struggled, Padilla accelerated the vehicle, narrowly missing hitting the carjacking victim's brother.
Padilla continued the pursuit in the carjacked vehicle, hitting several other vehicles until he hit a raised curb, disabling the vehicle.
Padilla got out of the SUV and ran from the pursuing police officers. Sana Ana Police deployed K9 Puskas, who brought Padilla down.
While being held by Puskas, Padilla continued to hit the K9. The chase and arrest was covered live by multiple television stations.
Puskas suffered multiple injuries, including the loss of most of the dog's upper and lower teeth, and had to undergo surgery.