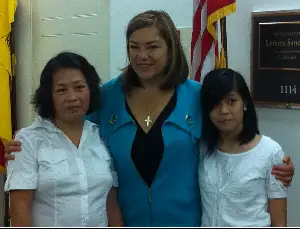 Congresswoman Loretta Sanchez, Representing California's 47th Congressional District
PRESS RELEASE, FOR IMMEDIATE RELEASE: July 13, 2011
MEDIA CONTACT: Adrienne Watson 202-309-0825
REP. LORETTA SANCHEZ WELCOMES ACTIVIST TRAN KHAI THANH THUY TO WASHINGTON, D.C.

WASHINGTON, D.C. – Congresswoman Loretta Sanchez (CA-47), co-chair of the Congressional Caucus on Vietnam, today welcomed formerly imprisoned democratic activist Tran Khai Thanh Thuy to Washington, D.C. Tran Khai Thanh Thuy thanked Congresswoman Sanchez for her support and hard work demanding her release and Rep. Sanchez offered a speech on the floor of the House of Representatives in honor of Tran Khai Thanh Thuy.
"I have great admiration for Ms. Thuy's courage and particularly happy to have finally met her in my Washington, D.C. office," said Sanchez. "We spent the last couple years advocating for her and many other activists as we lend a voice to their bravery in defending their basic rights. I am pleased to see the positive outcome of Ms. Thuy's case. However, the work is not over, we must continue to call on the Vietnamese government to authorize the unconditional release of all remaining prisoners of conscience and to take concrete steps towards establishing and respecting the freedoms of speech, press, assembly in Vietnam."
Tran Khai Thanh Thuy was released last month by the Vietnamese government after serving more than two years in a Vietnamese prison for peaceful dissent and democratic demonstration. Following Tran Khai Thanh Thuy's detention in 2009, Rep. Sanchez urged her colleagues to participate in numerous advocacy efforts on behalf of Mrs. Thuy and her family. Rep. Sanchez also met with the daughter of Tran Khai Thanh Thuy, and most notably, advocated for Tran Khai Thanh Thuy in a meeting with Secretary of State Hilary Clinton and delivered multiple floor statements to Congress regarding Tran Khai Thanh Thuy's plight.
The full text of the floor speech is below and a photo of Rep. Sanchez with Tran Khai Thanh Thuy and her daughter is attached.
Congresswoman Loretta Sanchez
Floor Statement
July 13, 2011
Mr. Speaker,
On October 15, 2009, I received disturbing reports that a democracy activist Tran Khai Thanh Thuy and her husband, Do Ba Tan, were beaten in front of their 13-year old daughter and imprisoned by the Vietnamese police and government.
Since then, I along with many of my colleagues have written countless letters to the Vietnamese government urging the government to release Mrs. Tran.
I have also engaged in direct conversations with Secretary Clinton strongly advocating the United States to pressure the government of Vietnam to not only release Tran Khai Thanh Thuy but to also make human rights a priority to improving US-Vietnam relations.
Fortunately, last month, thanks to the work of human rights organizations and members of Congress Mrs. Tran was released and the State Department was able to bring Mrs. Tran to the United States where she is now presiding with her daughter.
Mrs. Tran along with activists including Pham Thanh Nghien, blogger Nguyen Van Hai and Pastor Duong Kim Khai were all arrested because Vietnam continues to believe they are an exception to the law, that all individuals have the right to speak and express their thoughts freely.
It is time for the government of Vietnam to become a responsible member of the international community by respecting the rights of individuals.
Mr. Speaker, I yield back.
Congresswoman Loretta Sanchez is proud to represent California's 47th Congressional District, which includes the cities of Anaheim, Garden Grove, Santa Ana, and parts of Fullerton in Orange County. She serves as Ranking Member of the House Armed Services Subcommittee on Strategic Forces and a senior member of the Committee on Homeland Security. Rep. Sanchez is also a member of the fiscally conservative Blue Dog Coalition and sits on the bipartisan, bicameral Joint Economic Committee.
# # #
United States House of Representatives
1114 Longworth House Office Building • Washington, DC 20515
Phone: 202-225-2965 • Fax: 202-225-5859