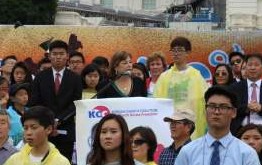 Congresswoman Loretta Sanchez, Representing California's 46th Congressional District
STATEMENT, FOR IMMEDIATE RELEASE: July 27, 2015
MEDIA CONTACT: Emily Morris, 202-225-2965, Emily.Morris@mail.house.gov
REP. LORETTA SANCHEZ HONORS KOREAN WAR VETERANS ON ARMISTICE DAY
WASHINGTON, D.C. – Congresswoman Loretta Sanchez (CA-46), co-chair of the Congressional Caucus on Korea and senior member of the House Armed Services Committee, today released the following statement on National Korean War Veterans Armistice Day, marking the day the Korean War ceasefire agreement was signed on July 27, 1953:
"Today, on National Korean War Veterans Armistice Day, our nation honors the 5.7 million American men and women who served during the Korean War. We pay tribute to 2,611 men and women from California who made the ultimate sacrifice to defend freedom for the people of Korea and the world from the threat of Communism. Those veterans are our country's source of pride and honor.
"Thanks to the valiant efforts of our service members, South Korea remains free and independent with a growing economy and a strong friendship with the United States. I am honored to represent the strong Korean American community in the 46th district and I'm proud to join my fellow Americans in celebrating this landmark day. Let us take time to reflect seriously and thank our Korean War veterans for their patriotic service and sacrifice which will never be forgotten."
###
Congresswoman Loretta Sanchez is proud to represent California's 46th Congressional District, which includes the cities of Anaheim, Santa Ana, and parts of the cities of Garden Grove and Orange in Orange County. She serves as Ranking Member of the House Armed Services Subcommittee on Tactical Air and Land Forces, as the second ranked Democrat on the Committee on Homeland Security, and is a member of the Congressional Asian Pacific American caucus.