Bill Lockyer, an evergreen of California politics, is retiring next year after 41 years in public office, and he'll be chief honoree at the Democratic Foundation of Orange County's annual awards dinner on Nov. 17, according to the O.C. Register.
The Register also reported something far more important than Lockyer's retirement – he has apparently reoncicled with his wife, former SAUSD School Board Member Nadia Maria Davis.  That is big news given the awful times she has had since she became an alcoholic, got elected to the Alameda County Board of Supervisors, went to rehab, had an affair with a meth addict, Steve Chikhani, a San Jose construction worker, and ultimately became a meth addict herself.

Dan Noyes, the Chief Investigative Reporter at ABC7, sat down with Nadia for two stunning interviews that turned into two articles.  Click here to read his first article and here to read the second one.  Here are a few excerpts from the first article:
After Bill became State Treasurer, he transferred $1.5 million from his campaign accounts into Nadia's 2010 run for Alameda County Supervisor. She won the primary, then spent a month in rehab.
After rehab, Nadia won the election for supervisor — the high point of her career. But, on the personal front, she tells Dan that arguments with her husband lead to an affair with Chikhani and to her own addiction to meth.
Nadia: "Mr. Chikhani is the one who introduced me to smoking meth. And I was an elected official and I was a mother and I was a wife. I made that terrible, bad choice. I'm responsible for making it."
Nadia and Bill began living apart. She tells me she tried to break up with Chikhani several times, but that he threatened to expose her secret life and revealed he had a sex tape.
Bill Lockyer found a copy of the sex video, left in the mailbox at their Hayward home.
And here are a few excerpts from the second article:
In May 2012, a judge approved Nadia's request for a restraining order that said Chikhani "threatened to sell things of a personal nature about me to some publication because i do not return his calls or respond to emails and text messages."
It was all too much for Bill Lockyer. He filed for divorce citing irreconcilable differences, and Nadia took her son to Southern California to stay with her sister — a turning point.  Just three days after arriving, her sister found Nadia's meth and pipe in the room she shared with her son.
Nadia: "My sister had saved my life. She called the police department and said that she found something in her home and right then I was arrested."
Nadia faced many challenges in more than a year of rehab — a relapse with alcohol, a bout with bell's palsy that left her face drooping, and an allergic reaction to psychotic medication that made her shake uncontrollably.
Just last month, Nadia was allowed to leave rehab to live with her son and Bill. He withdrew the divorce papers after seeing the progress his wife has made.
Nadia has some new tattoos, to honor her Native American heritage, "Of course, I wouldn't have gotten this as supervisor, but I got this this in treatment."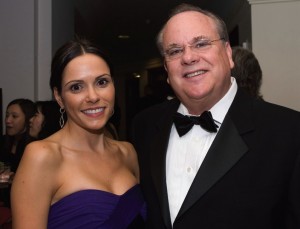 I wonder if Nadia will show up with Bill when he gets honored this month by the Democratic Foundation of Orange County?  They actually met at a Democratic Party convention.  We wish them well in the time that Bill has left on this Earth…