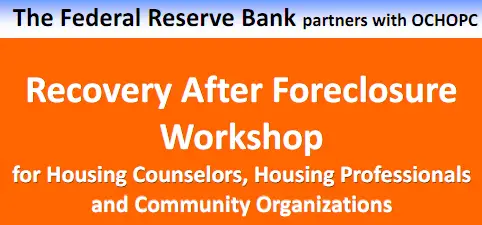 The Federal Reserve Bank is partnering with OCHOPC for the Recovery After Foreclosure Workshop for Housing Counselors, Housing Professionals and Community Organization
Learn about the free local resources that can assist homeowners who have lost or are at-risk of losing their homes to foreclosure get back on track to economic recovery. Representatives from various agencies will discuss their services and the referral process for helping clients with emotional, financial and housing recovery. This workshop is designed to bring together the range of organizations that are interested in ensuring that atrisk homeowners get legitimate assistance and counselors are aware of.
WHEN: 8:30am to 12pm, January 21, 2011
WHERE: Rancho Santiago Community College Bldg.
2323 N. Broadway, Santa Ana, 92706
COST: FREE
RSVP: Via Email to OCHOPC@gmail.com
REGISTRATION: 8:30 AM
WORKSHOP: 9:00 AM—12PM
OPEN TO:
Housing Counselors,
Housing Professionals
and Community & Faith Based Organizations
RSVP Recommended
RSVP via Email: OCHOPC@gmail.com
Or visit: www.oc.myhousingforall.org for more Information!
WORKSHOP INCLUDES FREE CONTINENTAL BREAKFAST!
THIS WORK SHOP IS GEARED TO PROVIDE RESOURCES FOR COUNSELORS AND SERVICE PROVIDE RS, NOT AC TUAL CLIENTS WHO NEED HELP!
Workshop Topics Include:
211 Resources and Referrals
Emotional Recovery & Counseling Resources
Credit Rebuilding & Surviving Unemployment
Workforce & Job Opportunities
Housing Resources
Hardest Hit Fund & How to Access
Click here to see the event flyer.