Toro Burger, a new burger joint that just opened in Santa Ana, is selling ramen burgers–those noodle hamburger hybrids that went viral last year and had everyone calling it the next cronut, according to the OC Weekly.
The Ramen Burger features a bun made of gourmet ramen noodles, with Angus beef, shaved green onions, baby mixed greens, and BBQ pork belly, for $9.
Other burgers available at Toro Burger include the Banh Mi Burger, with  Angus beef paired with a steamed pork roll, pickled carrots, daikon radish, fresh cilantro, jalapeño, and a dousing of fish sauce, also for nine bucks; and a Kim Chi Burger, with Korean BBQ sauce and kimchi.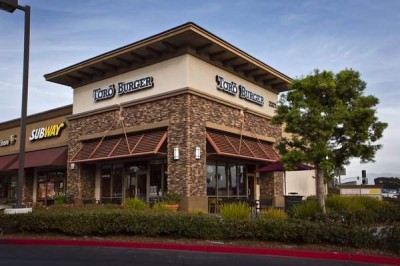 Toro Burgers is located at 2321 E 4th St. Ste A., in Santa Ana.  They just celebrated their grand opening yesterday.
I could not find them on Facebook but you can click here to look at their Yelp page.  The Yelpers were upset that they ran out of Ramen Burgers on their first day.  And some said the burgers were too small for the money.  But at least they are cheaper than the overpriced bloody hipster burgers at the Playground!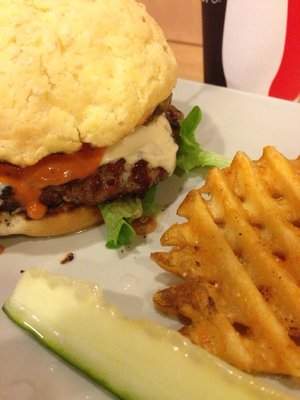 They don't take AMEX cards but do accept other credit cards.  Here are their Hours:
Mon
10:30 am – 12:00 am
Tue
10:30 am – 12:00 am
Open now
Wed
10:30 am – 12:00 am
Thu
10:30 am – 12:00 am
Fri
10:30 am – 12:00 am
Sat
11:00 am – 11:00 pm
Sun
11:00 am – 11:00 pm
They were visited by the Orange County Health Agency on February 6, 2014.  They filed a change of ownership and received five minor health violations, as follows:
ROUTINE INSPECTION

 

02/06/2014

Lack of/Improper Handwashing/Handwashing Sup.

Facility not Fully Enclosed/Open Door/Air Curtain

Inappropriate Sanitizer Level/ Lack of Test Strips

Unsanitary Equipment/Utensil/Linen/Plumbing

Lack of/Unsanitary/Condition Walls/Floors/Ceilings

CHANGE OF OWNERSHIP

 

02/06/2014
Minor Violations pose less risk of causing food poisoning (or foodborne illness), and do not warrant immediate verification of compliance.