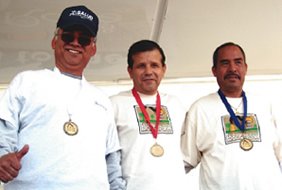 Two of Santa Ana Mayor Miguel Pulido's friends ran an ad today in Rumores newspaper, which is published by yet another Pulido ally, attacking Pulido's opponent, attorney Alfredo Amezcua, as reported in the O.C. Register.
Rumores is one of several Spanish language newspapers in town that are not home delivered.  You have to go pick it up at local stores. 

Rumores is such a rinky dink product that the publisher doesn't even have a website!  That might be a good thing as this is not a great newspaper to begin with.
The ad , which includes a banner that reads "Victim of the Week," attacks Amezcua, indicating that two of his clients paid him thirty grand, but he ended up dropping their case.  The clients are not named.  As far as attacks go, this is pretty tame and, like Rumores, pretty lame.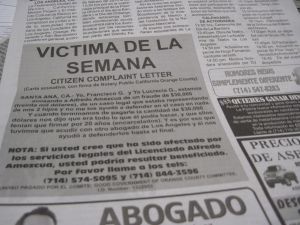 Swap Meet Vega's attack ad.  Picture courtesy of the O.C. Register
The ad was paid for by Alex "Swap Meet" Vega and restaurant owner Victor Ibarra, under the guise of a group that calls itself the "Good Government of Orange County Committee." 
Vega often hangs out at Santa Ana City Council meetings.  I have seen him drive off with Pulido on several occasions.  I have no clue how he makes a living.
A few years ago Vega started an ill-fated swap meet at Century High School.  There were rumors for years that he ran off with the money.  If he did, he got away with it because he was never prosecuted, but the nickname "Swap Meet" stuck.
Now if Pulido really wanted to whack Amezcua, he could bring up the fact that Amezcua allegedly represented members of the Mexican Mafia, back in the day, but perhaps even Pulido is too scared to mess with "La Eme." 
Amezcua told the Register that the ad was trash. 
Our city is some forty million in the red and this is the best our candidates can do?  How very disappointing.
And one has to wonder how in the world it makes sense for Pulido and his allies to attack Amezcua in Spanish language newspapers.  That isn't a great way to reach actual voters.  Is this Dennis De Snoo's handiwork?  If so, he is clearly in over his head.
But then you have to wonder if Amezcua himself is ready for prime time. His campaign website is an empty shell.  But so is Pulido's! 
Will another candidate yet emerge?