SAN JOSÉ, CA – As the Governor and State Legislature negotiate a final budget, the Mayors of California's largest cities, representing over 11 million people, laid out their most pressing statewide budget issues during a virtual press conference. The Mayors' two major priorities are: 1) supporting the Legislature's inclusion of $350 million in flexible funding for local governments dedicated to homelessness intervention and solutions implemented under previous one-time state allocations as outlined in the legislature's budget; and 2) support for the Governor's proposal to use $600 million in federal Coronavirus Relief Funds to acquire hotels and motels — and other homeless housing solutions. These priorities surfaced as California meets the unprecedented demand of dealing with twin crises, the COVID-19 pandemic, and homelessness, while the economy faces severe free fall.
"We appreciate that our legislative leaders have recognized that when California invests with cities, we can get housing built, shelters open, and homeless housed," said Mayor Sam Liccardo, the head of Big City Mayors. "Yes, it will cost money, but it comes at a bargain compared to the cost of doing nothing."
With the added impacts of the COVID-19 crisis, The Big City Mayors Coalition (BCM) wrote to Governor Gavin Newsom detailing their updated budget priorities. They continue to meet regularly with the Governor's office, state legislative leadership and Budget Committee chairs throughout the budget process to ensure that the cities' priorities are included. The Governor's May Budget Revision reflected the BCM's priorities. The BCM began advocacy for these issues in early March during a trip to Sacramento where they presented information on homeless investments and strategies deployed in their cities with state funding. The BCM also recently wrote to the Governor and legislative leadership to advocate for priorities, specifically the $350M included in the legislature's budget.
The May Revision currently proposes $600 million for facilities and services to permanently house homeless populations including an allocation for Project Roomkey to purchase hotels/motels statewide. To support this priority, the Mayors sent a letter to state legislative leaders urging "as much flexibility in the use of these funds locally as the CARES Act will permit—by allowing the acquisition, rehab, and/or financing of other types of homeless housing, as well as the use of funds for operations and services."
These flexible dollars are needed to support an ongoing source of homelessness dollars to ensure projects and interventions developed through previous one-time state funding, such as bridge housing, can continue to serve homeless residents. The Mayors also proposed an investment in homeless solutions that provides flexible dollars to California's biggest cities.
As the budget process proceeds in the state capitol, the Big City Mayors coalition will continue to highlight the priorities of California's residents and advocate for funding for the most pressing issues the state faces: COVID-19 and homelessness.
The Big City Mayors is a coalition of Mayors across California's 13 largest cities. Members include Mayors from Los Angeles, San Diego, San José, San Francisco, Fresno, Sacramento, Long Beach, Oakland, Bakersfield, Anaheim, Riverside, Santa Ana, and Stockton.
Mayor Eric Garcetti – Los Angeles
"Every time the state invests in homelessness solutions, Los Angeles and all of our big cities turn those dollars into shelters and support for our most vulnerable neighbors," said Mayor Garcetti. "Even in a tough budget year, we need this additional state funding now, so we can acquire and operate hotels and motels, stand up more beds, bring more youth off of L.A.'s streets, and keep delivering vital services to residents on Skid Row — and I look forward to working with Governor Newsom and our partners in Sacramento to leverage these resources into housing, healing, and hope for Angelenos experiencing homelessness."
Mayor Kevin Faulconer – San Diego
"As we recover from this health and economic crisis, now is not the time to let up on funding for cities to address one of the top issues in our state. Cities have always been on the front lines of addressing homelessness, and have a proven track record of turning state investments into local innovations that get a roof over people's heads," said San Diego Mayor Kevin L. Faulconer. "As San Diego is using this moment to shelter and house as many people as possible, it's imperative that the Governor and legislature continue direct investments to California's largest cities to make sure we exit this pandemic with fewer people living on the streets, not more."
Mayor London Breed – San Francisco
"While San Francisco has made great progress in slowing the spread of COVID-19, the pandemic has only exacerbated the issues we were already facing around homelessness. We're adapting to these new challenges to get people the care and shelter they need, and we look to the Governor and the State Legislature to offer flexible, comprehensive resources that will give San Francisco, and cities throughout California, the ability to continue this progress."
Mayor Lee Brand – Fresno
"Before COVID-19, homelessness was our most pressing challenge. Now, as we battle the pandemic, not only does homelessness remain at the forefront, but could be made much worse by the virus and the accompanying economic fallout as we are just now starting to emerge from stay at home orders to protect public health. I want to thank Gov. Newsom for including $750 million in his May Revise budget proposal for facilities and services to permanently house homeless populations, but because of the budget challenges all of us are facing from COVID-19, it is more vital than ever that cities have the funding to help our most vulnerable people."
Mayor Darrell Steinberg – Sacramento
"The Coronavirus pandemic has only underscored the urgency of which we must move to get people experiencing homelessness indoors," said Sacramento Mayor Darrell Steinberg. " I applaud the Legislature and Governor Newsom for including substantial resources to continue addressing California's homeless crisis in their respective budget proposals. As negotiations conclude, I am hopeful the final budget will ensure cities receive the flexible resources we need to continue investing in solutions that get people off the streets and into housing."
Mayor Robert Garcia – Long Beach
"Cities are on the front lines of supporting communities during this pandemic. It is absolutely critical for large cities that support much of the regional work to receive direct Coronavirus Relief Funds," says Mayor Robert Garcia. "I would like to thank the Governor for his proposal to direct funding to all large cities that weren't eligible to receive Coronavirus Relief Funds directly from the federal government. These dollars will be critical to supporting our health response and economic recovery."
Mayor Libby Schaaf – Oakland
"As we face the triple crises of systemic racism, global pandemic and economic shutdown, our unhoused population is at highest risk," said Oakland Mayor Libby Schaaf. "We call on the Governor and the Legislature to provide direct homelessness funding to the areas most affected by homelessness, California's 13 biggest cities."
Mayor Harry Sidhu – Anaheim
"Partnering directly with cities is a proven model for California," Anaheim Mayor Harry Sidhu said. "Together, we have met the coronavirus challenge and saved lives. But there is more to do. As a city advanced in addressing homelessness, Anaheim needs direct, flexible funding to build on our gains with shelters, affordable housing, outreach and services. At the same time, it is critical that our state budget recognizes the unique role of Anaheim and other midsize cities. We have always been a great investment for California and will continue to be as we partner together on recovery."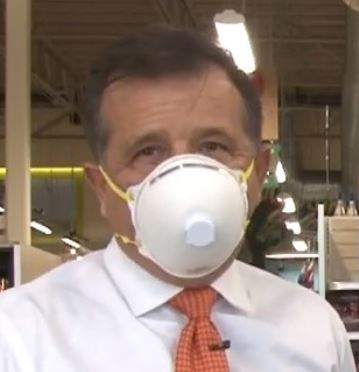 Mayor Miguel Pulido – Santa Ana
"Santa Ana and the entire State of California were already facing a homelessness crisis, but the COVID-19 pandemic has laid bare our economic and housing inequities. The proposed funding will provide essential support to cities that have been on the front lines of these two emergencies. This isn't just about protecting public health – offering housing and support to the most vulnerable members of our communities is simply the right thing to do."
Mayor Rusty Bailey – Riverside
"Together we have moved over 9,400 homeless neighbors into shelter in a few months", said Mayor Rusty Bailey from Riverside. "We make progress when we collaborate, focus resources, and allow flexibility to meet local needs. I commend our Governor and legislative leaders for prioritizing our most vulnerable residents in this year's budget, it is unacceptable to launch these same people back onto the streets now that we have established trust with them. We must never forget that beneath the stigmas associated with homelessness are real people with real dreams."
Mayor Michael Tubbs – Stockton
"Cities in particular drive our nation's engines of prosperity, but are also the epicenter of coronavirus outbreaks," said Mayor Michael Tubbs. "It's no surprise that pre-COVID-19 issues such as homelessness and housing have only been exacerbated by this pandemic and are draining our city coffers at an alarming rate. Being a former mayor himself, Governor Gavin Newsom understands the importance of supporting cities during a time of crisis and that funding must be made a priority in our most populated areas of our state."