Support Occupy Orange County CA is going to occupy Orange on Saturday, Oct. 8, beginning at 12:00 noon and ongoing through the afternoon.
They ask that you wear comfortable shoes and if you want to bring a sign, keep them tasteful.  They have four signs of their first official flyer for protesters to use and 400 flyers to pass out.
GOAL: Bring awareness of our existence and advertise for their big demonstration in Irvine on the 15th.
LOCATION: The Circle (aka Plaza) located at Chapman and Glassell
PARKING: Free parking is located behind the storefronts on Glassell, just follow signs for public parking.
TIME AND DATE: This Saturday, October 8, 2011 beginning at 12:00 Noon
Click here to RSVP on Facebook.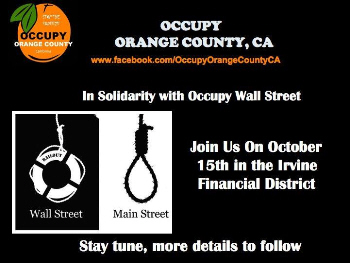 They are also going to occupy Irvine, on Oct. 15.
That one does not make much sense, according to the OC Weekly: "But with October 15 falling on a Saturday, Irvine's Financial District (home to Bank of America, Taco Bell, Spectrum Group International, Golden State Foods, CorVel Corporation and others) is almost assured to be a ghost town, which begs the question–even if thousands of people show up to rally, will the intended recipients of the message be on hand to hear it?"
And they plan to occupy Santa Ana, on Saturday, October 22 at 12:00pm – Sunday, January 22, 2012 at 3:00pm, at the Ronald Reagan Federal Building and United States Courthouse.
I don't know what these folks hope to accomplish but it ought to be quite a ruckus.  I would imagine the SAPD will be out in full force, on their horses…
Click here for more info.