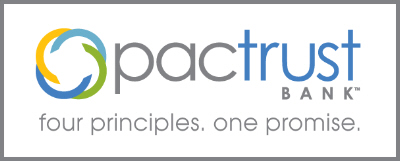 PacTrust Bank is celebrating a grand opening in Tustin on July 19.  Local resident Laura Araluce, Tustin's branch manager and the bank's CEO Gregory Mitchell will be available to discuss the local impact of community banking. There will also be various city officials and commerce dignitaries attending the event.
PacTrust Bank recently merged with Beach Business Bank. The Tustin branch is opening on the heels of two other branch openings in Century City and Santa Monica as part of PacTrust's expansion efforts. More people are turning to community banking in lieu of big banks' hidden fees and poor customer service, which makes this a great time for PacTrust, a local bank that commits to and is involved in the community, to open a branch in Tustin – not far from Santa Ana.
Big banking has been criticized recently for poor customer service, questionable debt collection practices, high service costs, and hidden fees—it's no surprise that more and more Americans are seeking out premium banking options that are upfront, upright, and reliable. PacTrust Bank is doing just that by providing personal touch banking at a local level, as well as nationwide access to more than 6,700 locations throughout the United States (as part of the CU Services Network) and 28,000 fee-free ATM locations through the CO-OP ATM Network.
PacTrust is offering special rates as part of Tustin's grand opening along with:
Totally free checking
Free online banking and bill payments
Free e-statements
Free mobile banking
Free MasterMoney® Debit Card
The Tustin PacTrust branch is located at 13031 Newport Avenue.  Join us as we celebrate the Grand Opening of our Tustin branch. PacTrust Bank operates banking offices focusing on residential, commercial real estate and small business lending. We provide customers with the convenience of banking at more than 6,700 branch locations throughout the US as and 28,000 fee-free ATM locations through the CO-OP ATM Network.
DATE: July 19th, 2012
TIME: 5:30pm–7:30pm
PLACE: PacTrust Bank, Tustin
13031 Newport Avenue • Tustin, CA 92780
R.S.V.P: Laura Araluce
Vice President/ Branch Manager
714.505.3047
Located in Lafayette Plaza at the intersection of Old Irvine Blvd. & Newport Ave.
Hors d'oeuvres & drinks will be served.