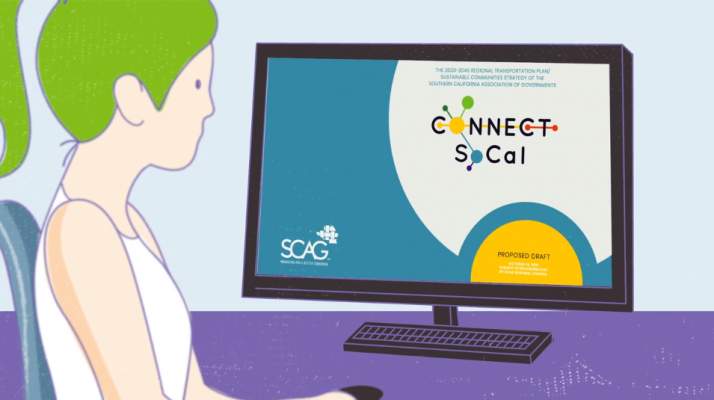 Less than a month remains for the public to provide input on a draft version of Connect SoCal, the 2020-2045 Regional Transportation Plan/Sustainable Communities Strategy for the six counties and 191 cities that make up the Southern California Association of Governments (SCAG).
The 25-year plan identifies $638.6 billion in transportation improvements for the region as a whole, including $70.9 billion specific to Orange County. The public is encouraged to weigh in on the plan during the formal comment period, which runs through 5 p.m. on January 24.
A comment form is available online here. Comments also can be sent to the attention of the Connect SoCal Team at SCAG, 900 Wilshire Blvd., Suite 1700, Los Angeles, CA 90017. In addition, workshops are planned throughout January to brief elected officials on the plan. A complete schedule of those workshops is available here.
SCAG planners spent four years analyzing data and working with local communities to develop Connect SoCal – a regional strategy to improve mobility, meet air-quality goals, create economic opportunities and enhance quality of life.
Among the more than 350 Orange County projects included in the plan are the development of arterial highways that will improve regional capacity ($7 billion) and the addition of mixed-flow and high-occupancy toll lands on Interstate 405 from State Route 73 to Interstate 605 ($1.9 billion).
Other major OC projects include:
o Enhancements to the safety, operations and maintenance of commuter and intercity rail ($978 million)
o Countywide bikeways ($806 million)
o Lane additions on the Eastern Transportation Corridor ($632 million)
o Mixed-flow lane additions on State Route 91 from State Route 55 to State Route 57 ($456 million)
o The OC Streetcar light-rail system between Santa Ana and Garden Grove ($414 million)
A complete list of projects throughout the six-county region can be found here.
"Making sure these kinds of projects are funded and built is critical to the future of Orange County and Southern California as a whole, connecting communities, creating new business opportunities and ensuring that we're able to maintain a quality of life we cherish," said Peggy Huang, a Yorba Linda City Councilmember who serves on SCAG's Regional Council.
Connect SoCal projects that Orange County will see its population grow by 11% over the next quarter century, from 3.18 million now to 3.535 million by 2045. The mobility improvements included in the plan would reduce commuter delays and generate 65,500 jobs in the OC – directly and indirectly – each year.
Across Southern California, the 25-year plan would net a 22.8% reduction in daily miles driven per capita, more than 360,000 jobs created per year and a return of $1.54 for every $1 spent on transportation improvements.
"There is no one-size-fits-all solution for our regional transportation challenges. We have to explore an integrated web of creative strategies, which is what Connect SoCal sets out to do," said Bill Jahn, a Big Bear Lake City Councilmember and President of SCAG.
Following the public comment period, a final version of Connect SoCal is expected to be presented to SCAG's Regional Council for approval in early 2020.
For more on Connect SoCal, visit www.connectsocal.org.
About SCAG
SCAG is the nation's largest metropolitan planning organization, representing six counties, 191 cities and nearly 19 million residents. SCAG undertakes a variety of planning and policy initiatives to plan for a livable and sustainable Southern California now and in the future. For more information about SCAG's regional efforts, please visit www.scag.ca.gov.