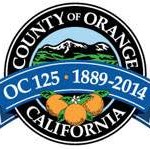 County Celebrates 125th Birthday in 2014
By: Shawn Nelson, Chairman of the Orange County Board of Supervisors
Back in 1989, Orange County celebrated its 100th anniversary, or Centennial. Now, 25 years later, the County is preparing for another observance, this one of its 125th anniversary or Quasquicentennial. As approved by the Board of Supervisors, OC125, as the observance will be known, will celebrate Orange County's rich 125 year history and some of the people, places and events that make Orange County unique.
When California became a state in 1850, what is now Orange County was a part of Los Angeles County. According to information from the OC Archives, several attempts in the 1870's and '80s to form a new county failed, but in 1889, the area's lone Assemblyman, Col. E.E. Edwards of Santa Ana, introduced a new bill to create Orange County. Santa Ana's founder, William H. Spurgeon, a prominent Democrat, joined local Republican leader James McFadden in helping Col. Edwards lobby the State Legislature. They also enlisted the support of the San Francisco delegation, which was more than happy to see Los Angeles County lose some of its population and power. The bill passed in both houses of the State Legislature and was signed into law by Governor Robert Waterman on March 11, 1889. However, the bill as approved did not actually create Orange County; it only allowed for a vote of the local residents to decide the matter. When the vote was held on June 4, 1889, the measure passed easily: 2,509 to 500.
Once the formation of Orange County was approved, a second election was held on July 17 to choose a county seat and elect county officers. Orange County was officially born on August 1, 1889 and the Board of Supervisors met for the first time on August 5. When Orange County was formed, there were just three incorporated cities here and a population of about 15,000.
More information about OC125, the County's history and the people, places and things that best represent Orange County will soon be appearing on the County's website, http://ocgov.com/.