One of the two massive hangars in Tustin, at a former Marine Corps Air Force Base, caught fire early this morning. The OCFA fire crews at the scene opted to let the hangar collapse on itself so ground crews could then move in and extinguish the fire.
The decision to let the hangar collapse was made in order to keep the fire crews safe as the structure was fully engulfed and collapse was likely.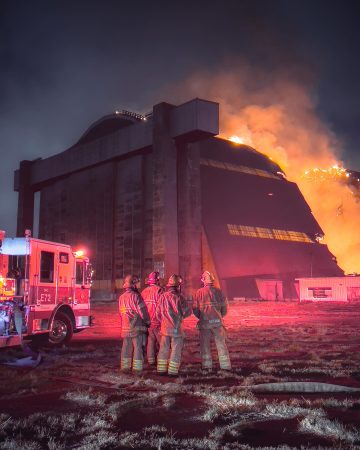 The fire started at around 1 a.m. One of our readers noted that she did not see the fire crews show up for at least ten minutes.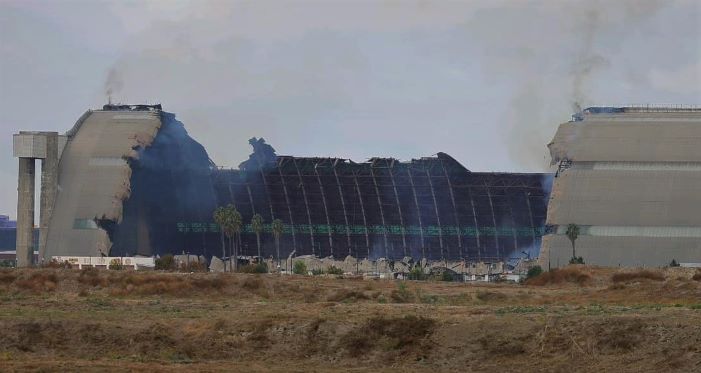 The hangar was identified as the North Hangar. The South Hangar was not involved in this blaze.
The fire was so substantial that the OCFA called in helicopter crews which normally combat large brush fires.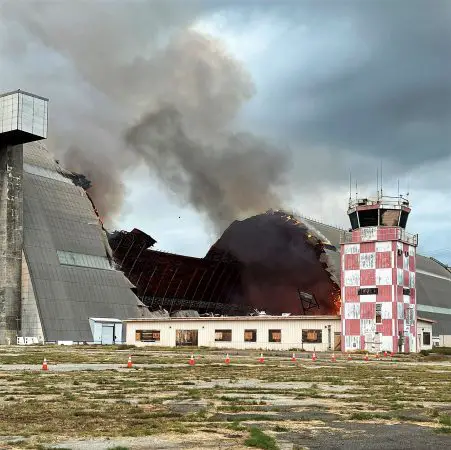 Fire crews from the cities of Anaheim and Costa Mesa showed up to assist when the fire grew to a three alarm fire.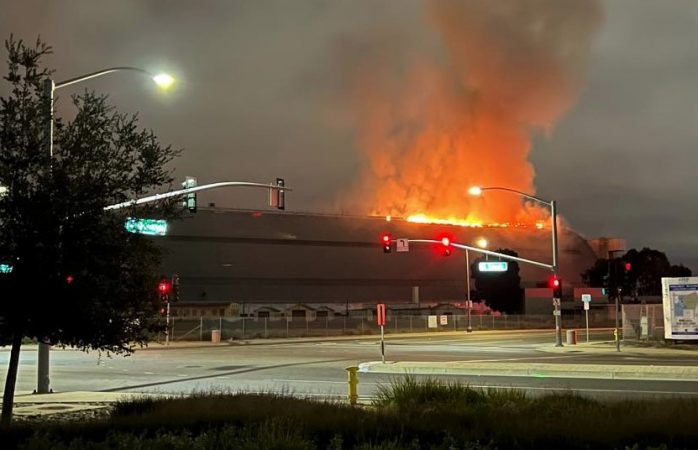 While the OCFA usually handles the investigations of such fires in this case the property belongs to the U.S. Navy and they will take over the investigation.
The Irvine Police Department is asking the community to avoid the area due to multiple road closures.
About the Tustin Hangars
The Tustin hangars are seventeen stories high and over 1,000 feet long and 300 feet wide. The hangars were two of the largest wooden structures ever built. Designing and building the two structures in 1942, during wartime, on a hyper-accelerated schedule, and with a nearly all-wood design, is what earned the hangars their 1993 listing by the American Society of Civil Engineers as one of the Historic Civil Engineering Landmarks of the 20th Century.
The hangars originally housed blimps used in WWII and later military helicopters. They were decommissioned in 1999. The Navy was in the process of handing them over to the City of Tustin pending environmental mitigation. The North Hangar sustained roof damage in October 2013 during a windstorm. The Department of the Navy stabilized the roof, but the building remained closed and has now been destroyed by today's fire.
The hangars have been featured in prominent television shows and films, including JAG, The X Files, Austin Powers, Pearl Harbor, and Star Trek. They have also been featured in several major car commercials.
The hangars were encircled by fences but were not constantly monitored.