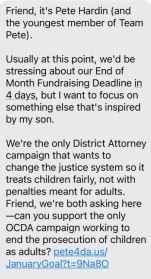 (Orange County, CA) – Today, Orange County District Attorney Todd Spitzer slammed his woke opponent, Pete Hardin, for fundraising off of the same policies that just led to a light sentence for a convicted child molester in Los Angeles County.
Pete Hardin and Los Angeles District Attorney George Gascon support not prosecuting juveniles as adults, regardless of the circumstances or heinousness of the crime. This inappropriate blanket policy recently resulted in a 2-year sentence in a juvenile facility for an individual who is now 26, even though they were convicted of molesting a 10-year-old girl in a bathroom just two weeks before they turned 18.
Shockingly, as news about the light sentence was breaking, Pete Hardin was fundraising off the very same policy that will result in the early release of a child molester.
Pete Hardin's support for policies that protect child molesters and sexual predators is particularly disturbing considering Hardin's own track record, which includes being forced out of the military and OCDA's office for his own sexual misconduct and predatory behavior.
"The fact that Hardin is fundraising off of policies that protect child molesters instead of children suggests he has serious psychological issues going on and a soft spot for fellow predators," said Orange County District Attorney Todd Spitzer. "Woke prosecutors like Gascon and Hardin are dangerous and put our children at risk."
In case you missed it, you can read the full memo from Hardin's former supervisor at the OCDA's office detailing his disturbing predatory behavior here, or below: