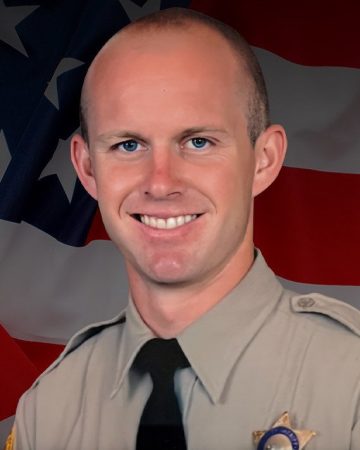 The murder of one of society's sworn protectors should be one of society's most solemn moments. If our protectors can't protect themselves from evil, then who will be able to protect all of us?
Instead of treating the murder of Los Angeles County Sheriff's Deputy Ryan Clinkunbroomer with the dignity, respect, and gratitude befitting a fallen officer, Los Angeles County District Attorney George Gascon lied to the young deputy's family when he promised he would seek the harshest sentence allowable under the law – Life without the Possibility of Parole.
The law allows prosecutors to seek the death penalty for the murder of a peace officer. But Gascon doesn't believe in the death penalty and he had already decided that the murder of young deputy sheriff wasn't worth the analysis of whether to seek death.
As if the lie and the feigned compassion for law enforcement that accompanied Gascon's remarks weren't insulting enough, Gascon chose a self-proclaimed cop hater to make introductions at the press conference about the murdered law enforcement officer.
Enter Tiffiny Blacknell, a former public defender who now serves as the Director of Communications and Special Advisor to George Gascon. Let's not forget how Blacknell referred to members of the LAPD as "barbarians," says prisons should be abolished, and posted a picture of herself on social media wearing a shirt that read, "THE POLICE ARE TRAINED TO KILL US."
The grieving family of Deputy Clinkunbroomer, a 30-year-old lawman who was murdered while stopped at a red light in his Los Angeles County Sheriff's patrol vehicle, had just escorted Ryan's flag-draped coffin to the mortuary. Then they had to stand at the press conference just feet from Blacknell, who has made it unequivocally clear she believes police officers are the murderers, not the criminals who murder police officers like Deputy Clinkunbroomer.
While a cop-hater was front and center, Deputy Clinkunbroomer's partners from the Los Angeles County Sheriff's Department Palmdale station were huddled in a corner, some visibly distraught over the loss of their friend and partner despite everything they did to save him. According to TIffiny Blacknell, they are not heroes; they are murderers with badges.
Our sworn protectors deserve better – and our society deserves better. Justice will never be served when outspoken cop-haters are center stage while our sworn protectors are shoved to the side.