Criminal Attorney Peter Hardin Exposed from Todd Spitzer on Vimeo.
(Orange County, CA) – According to the latest campaign finance reports, Orange County District Attorney Todd Spitzer has raised over $1.16 million for his reelection campaign and has $827,000 cash on hand.
By comparison, his woke opponent Pete Hardin has raised a total of $644,000 and only has $353,000 cash on hand. While Hardin's performance is underwhelming, his attempt to bring the same failed pro-criminal policies from Los Angeles to Orange County remains in full force.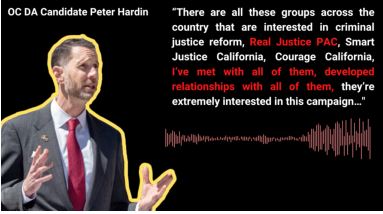 Just a few months ago, Hardin was caught on tape bragging about his plan to buy the election with the help of millions of dollars from the same billionaires and Super PACs that propelled George Gascon to office in Los Angeles, and Chesa Boudin in San Francisco. Listen to Hardin brag about his plan to buy the election here.
"There are all these groups across the country that are interested in criminal justice reform, Real Justice PAC, Smart Justice California, Courage California, I've met with all of them, developed relationships with all of them, they're extremely interested in this campaign…But some of them are big PACs that can put a lot of money into a race. You know if we can raise a million dollars, great, we'll do everything we can. But that might be chump change compared to what some of these outside groups can bring in."
– Peter Hardin
"Orange County residents have no interest in seeing their beautiful community turned into another Los Angeles by Pete Hardin," said Orange County District Attorney Todd Spitzer. "Since he can't get support in Orange County, he's banking on special interests and billionaires buying the election for him, just like they did for George Gascon. I will continue to expose Hardin's woke pro-criminal agenda and disturbing history of sexual misconduct so that never happens."