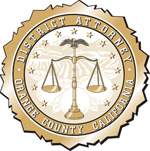 ORANGE COUNTY DISTRICT ATTORNEY PRESS RELEASE
Case # 00753194
Date: January 9,2015
OCDA SEEKS PUBLIC'S HELP IDENTIFYING POTENTIAL ADDITIONAL VICTIMS OF COMPANY ACCUSED OF MAKING MILLIONS SELLING BOGUS PRODUCT NATIONWIDE
SANTA ANA – The Orange County District Attorney's Office (OCDA) is seeking the public's help identifying potential additional victims of an Irvine-based Internet sales company accused of selling a bogus car performance chip nationwide. In a civil consumer prosecution filed by the OCDA, GFORCE CHIPS (GFORCE) is accused of committing unlawful business practices and engaging in false advertising by selling a sham product marketed as a legitimate after-market car performance chip. The case was assigned yesterday, Jan. 8, 2015, for all purposes to Department C-16, Central Justice Center, Santa Ana.
GFORCE is owned and operated by 31-year-old Ravi Ghataode.
GFORCE is accused of falsely advertising on the business website that their product is a legitimate performance chip and fraudulently selling an elaborately packaged circuit board that contains no software. GFORCE is accused of not testing the product prior to selling it to support their claims. The defendants are accused of making false claims and fabrications about the company on their website, including who founded the company, when it was founded, its location, and who made or engineered the product.
GFORCE is accused of selling chips to hundreds of thousands of consumers nationwide at $69 each, and earning more than $15 million dollars by falsely advertising that the chip had software on it specifically programmed for the purchasers' car, down to the make, model and year, and that once the product was installed in the car's engine, it would substantially increase gas mileage by four to seven miles per gallon, reduce emissions by 25-40 percent, and increase the horsepower of the car by 30-60 horsepower.
The OCDA began investigating this case after receiving consumer complaints and learned that hundreds of complaints had been received by the Better Business Bureau, various Internet blogs, and GFORCE.
This is the second time in the past four years that Ghatoade has been sued for unlawful business practices and false advertising by the OCDA (Case #00471262). Ghataode was ordered in 2011 by the Orange County Superior Court not to engage in such acts and practices, after settling a prior consumer fraud lawsuit. To read more about that case, please click here: "OCDA Obtains $200,000 Settlement From Audio Retailer For Charging Customers For Products That Were Never Shipped And Failing To Issue Refunds."
If you are a consumer that purchased a GFORCE chip and either never received your merchandise, or your requested refund, or would like to lodge a complaint with the OCDA about the product received, please contact the Consumer Fraud Hotline at (714) 834-6553.
Deputy District Attorney Michelle Cipolletti from the Consumer Fraud Unit is prosecuting this case.
###
TONY RACKAUCKAS, District Attorney
Susan Kang Schroeder, Chief of Staff
Office: 714-347-8408
Cell: 714-292-2718
Editor's Note: Ghataode says that, "We vehemently deny all the allegations, As a matter of fact, we have retained top experts in the country who have tested our product and they have provided reports of the accuracy of the product. We expect to prevail on the merits."