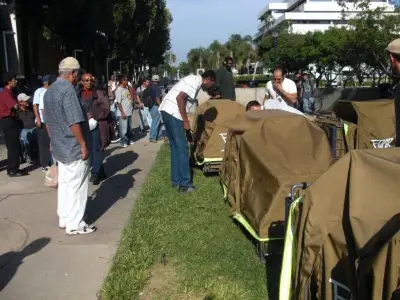 The Orange County Board of Supervisors unanimously approved a plan Tuesday to spend $3.6 million for a Santa Ana warehouse that will be converted into a year-round shelter, according to the OC Weekly.
The 23,000-square-foot, 200-bed emergency center is planned to include a multi-service center for homeless families and individuals. The county will operate the shelter through a provider and offer services to assist individuals to assimilate into the workforce. Services will include mental and public health services, assistance for veterans and housing needs. The county will work with local resource groups to provide help, according to the O.C. Register.
The 23,000-square-foot warehouse, at 1217 E. Normandy Place in Santa Ana, is located near the corner of Grand and McFadden avenues, according to the Voice of OC.  The cost of construction
Last September, Santa Ana became the only city in Orange County to pass an ordinance allowing for the construction of the county's 200-bed shelter and service facility, according to the Daily Pilot.
Residents of the neighborhood surrounding the site spoke out against the move, saying they didn't have enough of a chance to express their concerns to the city, according to the Los Angeles Times.