Join us for the Be Well OC #OC Countywide Suicide Prevention Initiative Conference to raise awareness on suicide prevention. The virtual 2-day conference will present keynote speakers and discuss vulnerable groups such as youth, young adults, older adults, and caregivers.
The Conference is Thursday, October 14 and Friday, October 15 from 9 a.m. – 12 p.m.
For more info and to register click: https://bit.ly/CSPIConference. #BeWellOC #StigmaFreeOC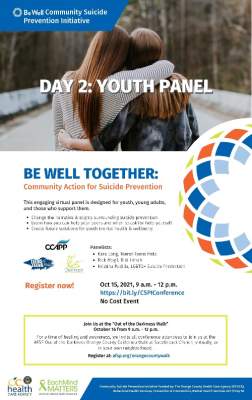 Day 1: Suicide Prevention Awareness with private, public organizations, schools/colleges, community-based organizations, hospitals, etc.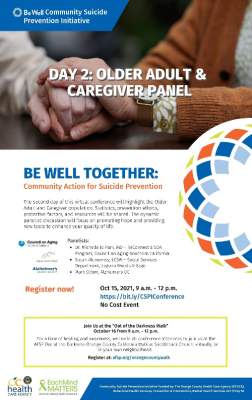 Day 2: Two panels focusing on specific vulnerable populations. One for older adults & caregivers, second on youth and young adults and their supporters.