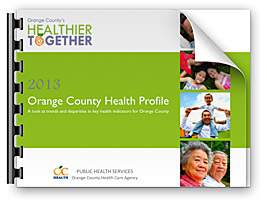 Orange County Health Profile Report Identifies Key Health Disparities
(Santa Ana) – A new report from the Orange County Health Care Agency shows a complex picture of health in Orange County. Orange County's health indicators fare well compared to other counties and state and national data, however disparities exist in health conditions amongst groups of people based on economics, race, ethnicity, gender, age, and geography. The report provides a breakdown of many health and health-associated indicators at a sub-county level to help in understanding where these health disparities occur.

As just one example, while overall rates of obesity are lower in Orange County (23.8%) than in California (25.4%) and the nation (27.8%), obesity continues to disproportionately impact some communities more than others. With an obesity rate of 39.8%, Latina women are nearly twice as likely to be obese as compared to the overall population.
"The Health Care Agency and our partners are committed to improving the health of all Orange County residents," said Agency Director Mark Refowitz. "This report highlights where things are going well and helps identify communities of greatest need. The Health Care Agency and our partners are using these data to create a community-wide health improvement plan, which will be presented in spring 2014."
The Orange County Health Profile includes more than 70 key health indicators and social, economic, and environmental indicators including Life Expectancy, Health Insurance Coverage, Crowded Living Conditions, Breastfeeding Rates, Heart Disease Deaths, Obesity Rates, and Smoking Rates. The report is available online here.
# # #