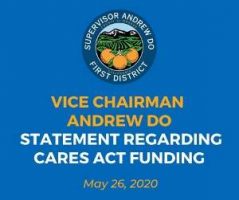 "I'm pleased that the Board of Supervisors approved a plan today that will allocate stimulus funding equally by supervisorial district. This plan ensures that stimulus funds quickly help everyone – not just the rich and well-connected.

Before making funds available, public-private partnerships will be sought after with community organizations, entrepreneurship groups, and small business programs that would provide matching funds or other opportunities for a multiplier effect.

In the First District, real small businesses – the self-employed, sole proprietors, family-owned restaurants, and gig economy workers – will receive first priority. True small businesses will be put first."
Orange County Vice Chairman Andrew Do represents the First District communities of Santa Ana, Garden Grove, Westminster, Fountain Valley, and Midway City. In his second term, Vice Chairman Do has reformed Orange County's mental health services, expanded access to health care, and led efforts to combat homelessness.
Declaración del Vicepresidente Andrew Do Sobre la Financiación de la Ley de Cuidados (CARES Act)
Me complace que la Junta de Supervisores haya aprobado un plan hoy que asignará fondos de estímulo por igual por distrito supervisor. Este plan garantiza que los fondos de estímulo ayuden rápidamente a todos, no solo a los ricos y bien conectados.
 
Antes de poner a disposición fondos, se buscarán asociaciones público-privadas con organizaciones comunitarias, grupos de emprendimiento y programas de pequeñas empresas que proporcionarían fondos equivalentes u otras oportunidades para un efecto multiplicador.
 
En el primer distrito, las pequeñas empresas reales, como los trabajadores independientes, los propietarios únicos, los restaurantes familiares y los trabajadores de la economía del trabajo, recibirán la primera prioridad. Las pequeñas empresas verdaderas serán las primeras.
El Vicepresidente del condado de Orange, Andrew Do, representa a las comunidades del primer distrito de Santa Ana, Garden Grove, Westminster, Fountain Valley y Midway City. En su segundo termino, el Vicepresidente Do reformó los servicios de salud mental del Condado de Orange, amplió el acceso a la atención médica y dirigió los esfuerzos para combatir la falta de vivienda.