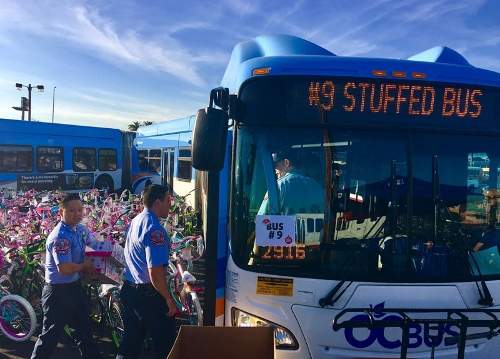 ORANGE – Looking to help spread some holiday cheer this year to local kids in need? Consider making a donation to the annual Stuff-a-Bus event on Friday, Dec. 17 – this year at a new location.
The annual toy drive for 2021 moves to Santa Ana College.
The public is encouraged to bring new, unwrapped toys or sporting equipment from 4 a.m. to 6:30 p.m. to Santa Ana College, 1530 W. 17th St., Santa Ana, CA 92706. Toys will be collected in the parking lot located nearest to Bristol Street and Washington Avenue.
Gifts for older children and teenagers, such as skateboards, watches and make-up brushes also are welcome.
ABC7 will be on-site to broadcast the event and greet the public, while first responders will help collect the toys and load them into buses, many provided by the Orange County Transportation Authority.
Other toy collections are being held this season in Los Angeles and Ventura counties and the Inland Empire. The Orange County drive has traditionally collected the largest number of toys. At its peak, the event helped fill more than 28 buses full of toys.
The toy drive has been held annually for nearly 30 years. Last year, the Stuff-a-Bus event was not held because of health concerns due to the coronavirus (COVID-19) pandemic.
This year, sponsors hope to renew the longstanding spirit of generosity at the Santa Ana location. Toys will be distributed during the holiday season to local children in need.
About OCTA: The Orange County Transportation Authority is the county transportation planning commission, responsible for funding and implementing transit and capital projects for a balanced and sustainable transportation system that reflects the diverse travel needs of the county's 34 cities and 3.2 million residents. With the mission of keeping Orange County moving, this includes freeways and express lanes, bus and rail transit, rideshare, commuter rail, environmental programs and active transportation