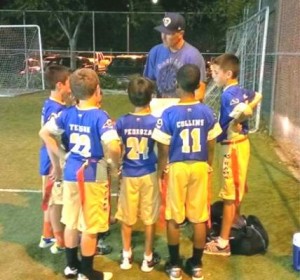 Orange County Play Action Flag Football Spring Registration is now open! Tentative season dates are March 7 – May 23, 2014.  The sports field is located at 2000 E. 1st Street, in Tustin. Click here to check out their Facebook page.  Click here to register.
Play Action Flag Football' is a non-profit 6 vs. 6 non-contact coed youth flag football league for ages Kindergarten to Eighth grade in Orange County. Features of Play Action Flag Football include:
Low time commitment – 1 game per week & 1 practice maximum
Play with friends – Request a Friend or Coach upon registration
Play other sports simultaneously – Friday night scheduling will not interfere with other sports or day time activities
No equipment to purchase (except mouth-guard)
No candy sales, no field prep, no snack-shack duty
Top quality: Uniforms (customized jersey and shorts!), Footballs and Flag gear
Beautiful well lit TURF & grass fields
Experienced and qualified referee's (2 per game)
More GAME Time!… 44 minutes per Game!
Experienced PAFF staff supervision at all times – "Sportsmanship First"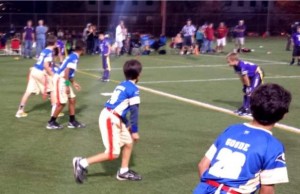 Editor's Note: My ten-year old son plays in this league and he absolutely loves it!  It is safe and fun and good sportsmanship is a key.
FAQ's:
Q: When do we play games?
A: Friday Nights!
Q: Where do we play games?
A: Fine facility near the 5 & 55 fwy. intersection.
Q: When are game times?
A: All games are between 4:30 – 8:30
Q: WHERE/WHEN ARE PRACTICES?
A: Completely determined by your coach. We recommend 1 practice per week. Practices are not mandatory and do not affect playing time.
Q: What time should I arrive to the game?
A: 15-30 minutes prior to you game. There is very little "warm – up" area available.
Q: How long do games last?
A: Approx. 1 hour.
Q. Can I bring food/drinks/snacks?
A. Not at Field o' Dreams… Field Turf… water ONLY!
Q. What equipment is required?
A. Mouthguards are required and available for purchase at field canopy. Rubber cleats are recommended.
Additional questions contact us at playactionflagfootball@gmail.com or 714.955.4056