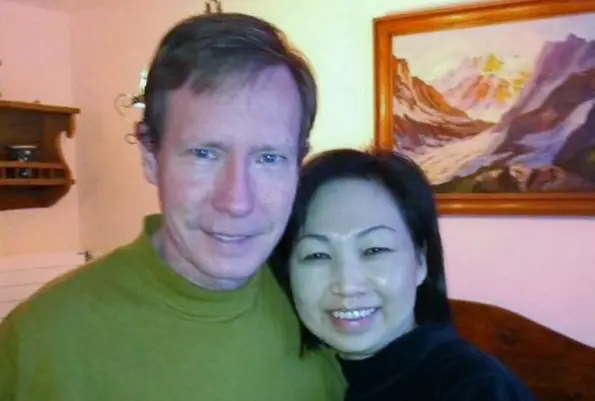 SANTA ANA, Calif.- A one-time "Most Wanted" fugitive who fled the country after being charged with murdering his wife and became the focus of an intense international manhunt before being captured in Mexico pleaded guilty today to murdering his wife nearly a decade after killing her in their Newport Beach home. Two of the couple's three sons were found abandoned at a school bus stop after their parents failed to pick them up from school the day their mother was murdered.
Peter Chadwick, 57, of Newport Beach, was arrested at the Mexico border in San Diego in October 2012 and charged with the murder of his wife Quee Choo "Q.C." Chadwick. Her husband led authorities to where her body was found wrapped in a blanket and discarded in a dumpster in San Diego County.
On the morning of Oct. 10, 2012, Chadwick is accused of murdering his wife in their Newport Beach home over a dispute regarding a possible divorce and related financial issues.
That afternoon, neither Chadwick nor the victim arrived to pick up their children from school. Another parent drove the children home and then requested a welfare check from the Newport Beach Police Department (NBPD) when the Chadwicks could not be located. A subsequent search of the home revealed blood and signs of a struggle inside. Newport Beach Police began investigating the whereabouts of the couple.
Sometime between the morning of the murder and the morning of Oct. 11, 2012, Chadwick is accused of driving to San Diego near the border of Mexico and contacting the San Diego Police Department. The defendant was arrested in San Diego on Oct. 11, 2012. He was out on $1 million bail when he failed to appear at a pre-trial hearing in January 2015.
The search for Chadwick took authorities across the United States, Canada and Mexico. Chadwick "strategically placed indicators" such as receipts from the Seattle area and literature about living in Canada in his father's Santa Barbara home, where Chadwick was living after posting bail on December 21, 2012.
Authorities learned that Chadwick was receiving assistance from people close to his family, and the investigation led to Mexico, where he was detained by Mexican immigration authorities on August 4, 2019 near Puebla, Mexico.
The U.S. Marshals Service added Chadwick to its 15 Most Wanted fugitive list in September 2018.
In addition to agreeing to plead guilty to one felony count of second-degree murder, Chadwick waived any credits he had accumulated while in custody. He was sentenced to 15 years to life.
"Three young boys lost their entire reality the day their mother was murdered by their father," said Orange County District Attorney Todd Spitzer. "It took years of painstaking police work to track down this defendant in order to hold him accountable for the murder of his wife and the mother of his three sons. In making the decision to accept a guilty plea, we carefully considered the wishes of Q.C.'s family, especially her sons who have already suffered the loss not only of their mother but also of their father at such a young age. We are forever grateful for the partnership of the Newport Beach Police Department, the U.S. Marshals, and the Mexican authorities in capturing this killer and helping us ensure justice is done for Q.C."
Senior Deputy District Attorney Jennifer Walker of the Homicide Unit prosecuted this case.