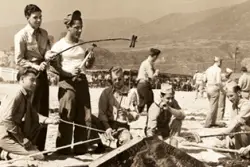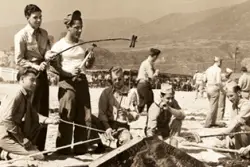 FOR IMMEDIATE RELEASE: MAY 10, 2011
CONTACT: JENN STARNES, 949-724-6574
Great Park Festival of Time To Honor El Toro Veterans
Event ties past to present and takes visitors back to the forties with live music and vintage aircraft.
IRVINE– Take a walk through Orange County's past and into the present at the 2011 Festival of Time celebration, on Saturday, May 14, from 7 to 9 pm.
El Toro veterans, their families and the public are invited to reminisce and honor the contributions of those who helped create the legacy of the Marine Corps Air Station El Toro, which is making the transition to the Orange County Great Park.
The free event will include a walk on a historical timeline accompanied by live music from the 1940s, vintage WWII-era aircraft, and an enchanted evening featuring an outdoor screening of the 1958 musical South Pacific starring Rossano Brazzi and Mitzi Gaynor.
"Festival of Time allows people to experience history in a unique and interactive way," said Beth Krom, Chair, Orange County Great Park Corporation. "This event also gives the people of Orange County a chance to meet veterans who served at El Toro and honor their service to our nation."
The daylong festival will also feature the "We Remember El Toro" display of historic El Toro photographs and the "The Legacy Project Exhibition," which blends historic photos with current images. The Great Park Museum Without Walls will showcase World War II vehicles and military aircraft. Visitors can enjoy food and refreshments from a variety of gourmet food trucks.
Marine Corps Lt. Col. Bill Kogerman (Ret.), a member of the Orange County Great Park Board of Directors, a decorated combat aviator based at El Toro, called this event "a fitting tribute to the brave men and women who served at El Toro."
"It warms my heart to see our former hangars hosting public events, our former squadron buildings transformed into art galleries and families walking along the runways that once launched our aircraft. The spirit of El Toro is alive and well in the Orange Country Great Park," said Lt. Col. Kogerman.
Visitors to the Park can see the base taking shape during the construction of the $65.5 million Western Sector Park Development Plan, which encompasses more than 200 acres of the Orange County Great Park. The plan is designed to build Park space that is diverse in use and appropriate to the funds available, resulting in more than 100 acres of active Park space. The Western Sector development — which will include soccer fields, recreation space, park-wide improvements, walking and bike trails, community gardens and a farm — is expected to be complete in 2012, with Park features being opened as they are completed.
The project builds on the current Park space, which will continue to be open and active with events and programming throughout construction. For more information on the Festival of Time and other Great Park events, please visit www.ocgp.org.
####