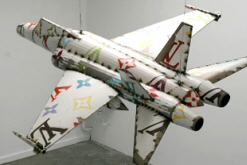 FOR IMMEDIATE RELEASE: JULY 20, 2011
CONTACT: JENN STARNES, 949-724-6574
Great Park Gallery Opens Saturday
Inaugural exhibition features El Toro-inspired works on display in a renovated aviation building
IRVINE – Jorg Dubin found inspiration in nature's reclamation of the former Marine Corps Air Station El Toro, and now art works inspired by the land and its history will form the inaugural exhibition in the Great Park Gallery, opening this Saturday. Plane Air Power by Jorg Dubin is an aviation-inspired exhibition of oil paintings and thematically related sculptures that capture the essence of the former Marine Corps Air Station El Toro, and will debut at the Great Park Gallery at the Palm Court Arts Complex on July 23.
The new Palm Court Arts Complex comprises two 1940s aviation support buildings that have been transformed into a 3,900-square foot art gallery and 6,400-square foot artists studio building. The two facilities are connected by a plaza lined with 54 Canary Island Date Palms. The Great Park's Artist-in-Residence Program will begin in August, with artists holding open studio hours for the public.
"Art has been an integral part of Great Park design and programming since inception, and now has a formal space in the Palm Court Arts Complex," said Beth Krom, Chair of the Orange County Great Park Corporation. "Showcasing an artist who was inspired by this land as the first exhibition in the Great Park Gallery is especially fitting, given our public art program's focus on art works specific to the Great Park site."
Jorg Durbin attended the Art Institute of Southern California. He is a lecturer at Laguna College of Art and Design and lives and works in Laguna Beach, California. For the new Gallery's inaugural show, the Park's arts and culture office selected an artist inspired by the land, who happens to be represented by a gallery that has been present and active in local art for 18 years — the Peter Blake Gallery in Laguna Beach.
The Great Park Gallery hours are Thursday from 12:00 p.m. to 8:00 p.m., Friday from 12:00 p.m. to 4:00 p.m., Saturday and Sunday from 10:00 a.m. to 4:00 p.m. The Gallery will also be open until 8:00 p.m. on Friday and Saturday nights during the Park's Flights & Sounds Summer Festival August 5-September 3. Admission is free. Plane Air Power is on display July 23-October 16.
For more information, go to www.ocgp.org.
About the Great Park
The Orange County Great Park, with its 1,347-acre master plan, is the focal point of the redevelopment of the publicly-owned portion of the 4,700-acre former Marine Corps Air Station, El Toro. The Great Park is currently nearly 60 acres and includes an iconic tethered helium balloon that rises 400 feet in the air, providing an aerial view of Park development. A $70 million development plan to expand the Park to more than 200 acres is currently underway, building on a core section of the Park for the most immediate and wide-ranging public benefit. The Great Park Farm, Palm Court Arts Complex, North Lawn recreation area and other features are already complete, and the South Lawn soccer fields and Community Garden will be complete in 2012. For more information, please go to www.ocgp.org
###