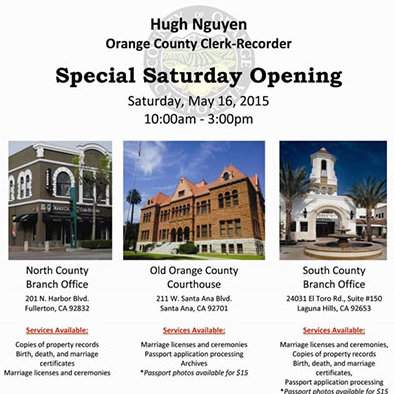 Clerk-Recorder Offers Special Saturday Hours
Plan now to take advantage of special Saturday hours available at the Orange County Clerk-Recorder Department on Saturday, May 16 from 10 a.m. to 3 p.m. in Santa Ana, Fullerton and Laguna Hills. Appointments for civil marriage ceremonies and passports are recommended due to limited space.
The Old County Courthouse will be offering marriage licenses, civil wedding ceremonies and passport application services only. Copies of property records and birth, death and marriage certificates will be available at the Laguna Hills and Fullerton branch offices, as well as obtaining marriage licenses and civil wedding ceremonies. Please note that the department's South County
branch office in Laguna Hills is now offering passport services. Free parking will be available at all three locations.

The popular Saturday hours make it easier for families and those who work during the week to obtain services usually offered just on weekdays. For example, to obtain a passport for a child under the age of 16, both parents must be present.
During the department's March 21st Saturday opening, department staff issued 146 marriage licenses and performed 110 civil marriage ceremonies. The department also accepted 32 passport applications. These numbers exceed typical daily averages indicating to the department that demand remains high for these Saturday openings.
"Word is getting out about our special Saturday openings," Clerk-Recorder Hugh Nguyen said. "Demand for Saturday hours continues to be high and I am committed to listening to our customers and providing easily accessible services to the public."
Appointments for civil wedding ceremonies are recommended due to anticipated increase in demand for services at the beginning of spring. To save time, marriage license, ceremony and passport applications can be completed in advance online at www.ocrecorder.com. As an added convenience, passport photos are available on the spot for $15.
To make an appointment or for more detailed information about the services available at the Clerk-Recorder Department, please visit: www.ocrecorder.com.
###