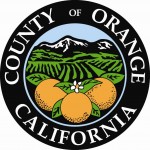 New Security Measures Planned for Board Meetings
Metal Detectors Will Be Used Beginning March 3
(Santa Ana, CA) — Beginning March 3, 2015, those attending Orange County Board of Supervisors meetings will be required to pass through a metal detector before entering the Board Meeting Room, a move designed to boost security in line with other large urban California counties.
The recommendation to install metal detectors came from the Orange County Intelligence Assessment Center, a multi-jurisdictional network of law enforcement agencies that develops best practices to protect the residents, visitors and critical infrastructure of the county.
Courthouses in Orange County have used metal detectors since 1999.
"The safety of our employees and visitors to our meetings is my primary concern," Board Chairman Todd Spitzer said. "The minor inconvenience of metal detectors will assure that our meetings can be conducted in a safe and appropriate environment."
The metal detector inside the Hall of Administration will be staffed by two Sheriff's Department special officers. Purses and bags also will be subject to search.
Other counties using metal detectors for security purposes during Board of Supervisors meetings include Los Angeles, San Bernardino, San Diego and Alameda counties. In San Diego and Alameda counties, the metal detectors are located at the building entrances.
Security costs, estimated at $23,000 annually, will be paid from the County Executive Office budget.
###