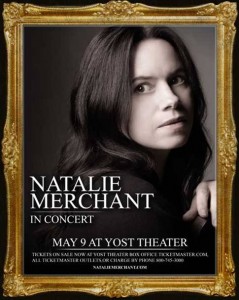 We are excited to help bring Natalie Merchant to O.C. this weekend, for an exclusive rare concert at the Yost Theatre THIS WEDNESDAY night!
Tickets are selling fast, so get them now online…. click here and get YOUR tickets.
About Natalie Merchant:  After rising to fame at the helm of the popular folk-rock band 10,000 Maniacs, Natalie Merchant enjoyed even greater success as a solo artist during the mid-'90s. Her literate, socially conscious songs established her among the preeminent women in pop music, while her solo debut — 1995's Tigerlily — helped pave the way for a number of female performers in a pre-Lilith Fair market. She continued releasing albums well into the 2000s, often examining specific genres or subjects, although Tigerlily remained her biggest-selling record.
Born October 26, 1963, in Jamestown, NY, Merchant joined 10,000 Maniacs at the age of 17 and became the band's driving artistic force. After a pair of successful independent releases, they signed to Elektra in 1985 and briefly became one of the most popular acts in alternative rock, shooting into the Top 40 with 1987's In My Tribe and charting even higher with their follow-up effort, Blind Man's Zoo. Merchant's desire to launch a solo career increased alongside the band's growing reputation, however, and by the time the group sat down to record 1992's Our Time in Eden, she gave her bandmates two years' notice. Following the release of MTV Unplugged in 1994, she publicly announced she was leaving the group's ranks.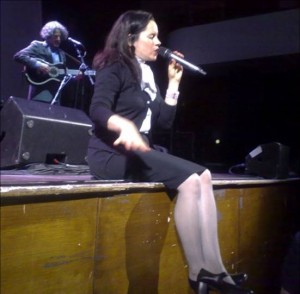 Merchant made her solo debut with 1995's Tigerlily, a self-produced album that debuted at number 13 and scored a Top Ten single with "Carnival." Two additional singles, "Wonder" and "Jealousy," also cracked the Top 40, prompting Tigerlily to sell over five million copies in the U.S. alone. It was followed in 1998 by Ophelia, another platinum-selling effort that was supported by Merchant's inclusion in the second Lilith Fair tour. Live in Concert, recorded at New York's Neil Simon Theatre, appeared a year later. A prominent social activist, Merchant also drew notice by campaigning in the name of such hot-button issues as animal rights, domestic violence, and homelessness.
Merchant launched a folk tour in 2000, with members of progressive folk band the Horse Flies joining her on the road. She then returned to her solo career with Motherland. Two years later, Merchant left Elektra's roster and formed her own independent label, Myth America, in order to issue House Carpenter's Daughter, a collection of traditional and contemporary folk music inspired by the 2000 tour. A long period of silence followed, during which a pair of greatest-hits releases — the 10,000 Maniacs collection Campfire Songs and Merchant's own Retrospective: 1995-2005 — kept fans relatively sated. As the decade drew to a close, though, Merchant signed with Nonesuch Records and began making plans for a new album, which eventually arrived in the form of 2010's Leave Your Sleep. ~ Jason Ankeny & Andrew Leahey, Rovi
Get your tickets now: http://www.ClubLuckyOC.com
Wed 5/09.  Doors: 8:00 pm / Show: 9:00 pm.  $50 General Admission/$60 General Admission – Seated • All Ages.