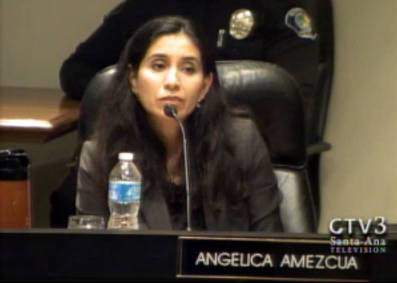 CONNECT-TO-COUNCIL Presents a RESOURCE EVENT for the NEIGHBORHOODS OF WARD 3,
with Councilperson Angelica "Angie" Amezcua
We bring resources to help assist with the neighborhood issues that are
important to you!
Code Enforcement: What is the actual process after a complaint is submitted?
Criminal /Police: Acting Chief of Police Carlos Rojas discusses the issues in the Ward 3 neighborhoods
New Neighborhood Watch Program: Sylvia Guillen, PSO for SAPD will explain this important program coming to the Ward 3 Neighborhoods
Where: Santiago Elementary School (Multi-Purpose Room), 2212 N Baker St, Santa Ana, CA 92706
When: Weds, March 13, 2013, 6:30-8:00 p.m. (come early for networking with refreshments & sandwiches at 6 p.m.)
Plenty of free parking available.
We hope to see you there!
Ward 3 Neighborhoods: Floral Park, West Floral Park, Morrison/ Eldridge Park, Fisher Park, Park Santiago, Meredith Parkwood, Riverview, Santa Anita, Casa de Santiago, Riverglen, Edna Park, Fairbridge Square, Mar-Les, Fairhaven, Riverview West, Young Square and Concord.
For more info, call Connie at 714-557-3812, or Email: info@ConnectToCouncil.com.