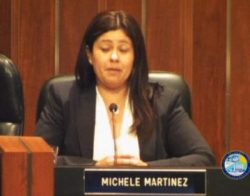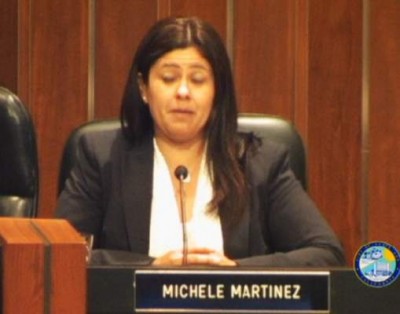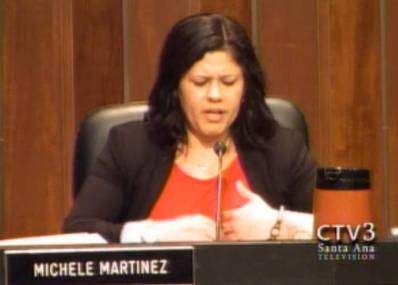 Santa Ana Mayor Pro Tem Michele Martinez reacted to the announcement that efforts are underway to recall her pro-gang colleagues on the Santa Ana City Council, in a rambling post on Facebook today:
I am being told that various members of the Santa Ana City Council are being threatened by a recall because of recent actions taken. I have also been informed that if I don't get on board with the program, I to will be recalled. If they wish to recall me for protecting the city from bankruptcy and protecting the residents interest, so be it. The city is not in the position of hiring any new employees or giving raises. We have no surplus…. It is facing a 15- 20 million dollar structural deficit that I have been speaking of for years. With the increase of pension and health care cost this year and the next few years , it will only create a bigger burden on the general fund. We have to manage expectations but unfortunately, some of my colleagues want to give raises after they have been told that we are not in a position to do so. This is reckless and irresponsible and I will not be silent or threaten because I am trying to do the right thing.

Lastly, the city has been charging residents various fees for trash and this is illegal according to my interpretation of prop 218. ( The practice of municipalities charging in-lieu franchise fees on their own enterprise activity departments is clearly prohibited by Proposition 218. The first two substantive requirements of Section 6(b) are that revenues derived from the fee or charge cannot exceed the funds required to provide the property-related service and that revenues derived from the fee or charge shall not be used for any purpose other than that for which the fee or charge was imposed. Moreover, in-lieu franchise fees are bad policy. Government does not exist to make a profit and it should not receive a windfall by skimming funds from its enterprise departments which, given their monopolistic nature, are not subject to competitive pressures).

I have put the City and Mayor and City Council on notice many times to correct this problem. It has gone to deaf ears. The law is the law… we don't need anymore studies to tell us to do what is right. I will be urging my colleagues on Tuesday to put these in-lieu fees on the ballot next November , so that the voters can vote on these fees. This is the right thing to do! I have had enough and I have a responsibility to go public because I have done everything I possibly could to address this with city staff and my colleagues. I can't be silent anymore…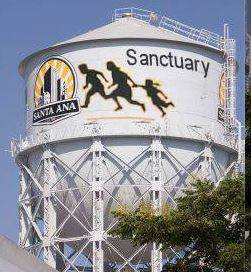 Martinez appears to have forgotten that the reason the City of Santa Ana is broke is the Sanctuary City ordinance she voted for – which cost us millions of dollars when the Federal Government canceled the ICE contract at our city jail. This wound was self-inflicted by our elected officials!
As for the trash issue the reality is that Martinez and her lame colleagues – Vince Sarmiento, David Benavides and Sal Tinajero, have been in full control of the City Council for several years and have served for some ten years. Why haven't they at least put the contract out to bid?  This is on them!
Crime is out of control in our city and Martinez and company are to blame. They hired a terrible Chief of Police, Carlos Rojas, and want to replace him with another lame candidate. They just don't get it!
Thank you Michele for reminding the voters why your colleagues should be recalled!