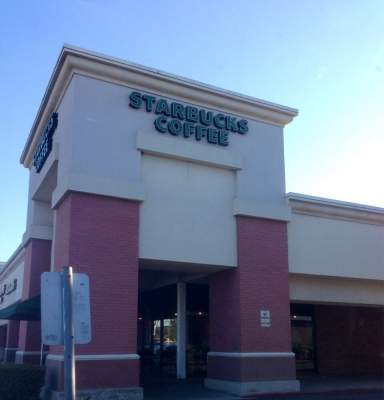 A man his early 50s died this afternoon just before 1 p.m. after being struck in the head with a skateboard by a a man in his 20s just outside a Starbucks at 3345 South Bristol Street, just north of MacArthur Blvd., in Santa Ana on Tuesday, according to the O.C. Register.
The older man was allegedly "bugging people" in the shopping complex when he went into the Starbucks and began to harass the younger man, according to a witness identified only as "Geovanni."
The two men argued and at some point the situation became physical and the younger man ended up hitting the older man in the head with his skateboard, outside of the coffee shop.
Witnesses said that the younger man was defending himself.
"He just came abruptly into the store, looked at the kid, and said, 'Did I stutter?'" witness Jocelyn Martinez told KTLA. "He took at step forward towards the kid as if he were going to attack him, and that's when the kid hit him with the skateboard."
The older man went into cardiac arrest after being hit by the skateboard and was rushed to Orange County Global Medical Center, where he was pronounced dead on arrival, according to the O.C. Weekly.
This incident happened in Santa Ana's Ward 4, which is represented by Councilman David Benavides.