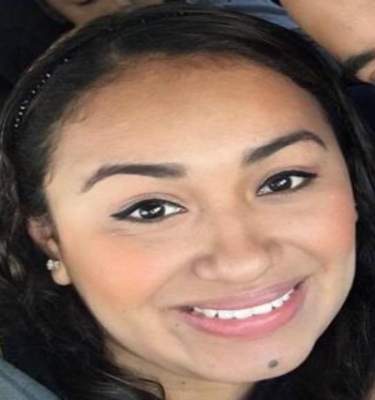 Eddy Reyes, a 35-year-old U.S. Customs and Border Protection employee, was arrested on Thursday, April 15, and has been charged with kidnapping his wife, Claudia Reyes, who went missing in Santa Ana way back in 2016.
Reyes was 21 years old when she disappeared, leaving behind a 4-year-old-son.
Federal agents searched Reyes' home in Covina, at the 20900 block of E. Covina Blvd. and a house in Orange, at 835 S. Park Vine St. this week. Investigators believe the missing woman was taken to one of these properties after she disappeared.
FBI agents were seen using tools including bolt cutters, a circular saw and a jackhammer at the home in Orange as they searched the home and the garage.
The FBI affidavit asserts that Claudia Reyes was killed either the night she disappeared or the next morning but as of yet no one has been charged with her alleged death. Her body has never been found.
Claudia was working at an El Pollo Loco restaurant in Garden Grove on May 6, 2016, when her coworkers heard her arguing over the phone with Reyes and apparently he was apologizing for something. Claudia told a coworker that her husband was going to taker her dancing after work. She did not want to go dancing as they were in the midst of moving to an apartment in Anaheim.
Reyes picked her up from the restaurant in a rented SUV that night, as she got off work.
That was the last time anyone saw Claudia.
That last call by Reyes, to Claudia, could get him in more trouble as the use of a cell phone in furtherance of a kidnapping satisfies the interstate commerce requirement for federal jurisdiction even where the crime occurred in one state.
Reyes did not file a missing person's report regarding Claudia for four days after she disappeared. He told the SAPD at the time that he and Claudia had gone "clubbing" with people he did not know.
The SAPD released Claudia's photo to the public to try to generate leads.
Reye's attorney at the time said that Reyes delayed filing the missing person report because of bad advice he received.
Authorities discovered that Reyes met Claudia and got her pregnant when she was a 16-year-old in El Salvador. Reyes was 25 at the time. He married her in 2014 and brought her and their son to the U.S.
The FBI complaint alleges that Reyes abused Claudia both physically and mentally. He'd also threatened her multiple times saying he'd rather kill her than see her with another man. He even paid someone to steal her cell phone because it had evidence that could hurt his career and another time he tried to have someone plant cocaine on Claudia.
Coworkers and Claudia's family members received strange text messages from Claudia's cell phone after she disappeared. One of these text messages claimed that Claudia had been "sleeping around" and was going to New York, in a bus, with an American man with blue eyes.
Claudia's mother pleaded by text for a response but no answer came. A coworker also filed a missing person's report when Claudia failed to show up for work. That coworker told the SAPD that Claudia was a victim of domestic violence.
Reyes eventually stopped cooperating with the police. He even started to hang up on the SAPD investigators when they called. He then went on a planned camping trip with his mother, half-brother and son.
The FBI investigators believe that Reyes killed Claudia at his mother's house in Orange the night he was supposed to take her dancing.
The only evidence found so far was a drop pf her blood in the SUV that Reyes had rented. A cadaver dog also picked up the scent of a dead body in the SUV's back seat and rear storage area.
The Federal complaint also alleges that Reyes' mother hated Claudia and had even told her previously that she and Reyes could kill her and take her son.
Why this case has been allowed to fester for so long is a very good question. Claudia was never seen again after she disappeared.