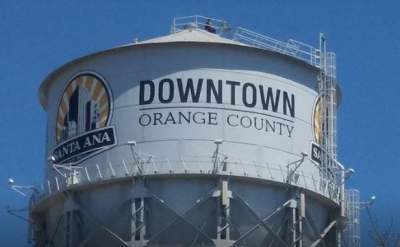 A man surrendered to police Tuesday Aug.  22, three hours after climbing 120 feet up onto the iconic Santa Ana water tower near the I-5 freeway, according to the O.C. Register.
Our readers reported that the man climbed the water tower just before noon today. He appeared to have a drone with him and was lugging a backpack. The SAUSD School Police opted to place the nearby Davis Elementary on Lockout while the SAPD tried to talk the man into coming down from the water tower.
The SAUSD School Police reported at 2:55 pm. that the incident near Davis Elementary School had ended. They also reported that Davis Elementary will resume normal operation tomorrow morning.
The SAPD reported that the suspect shouted to the police officers that he wanted to take a selfie with his cell phone. The suspect also dropped some white objects to the ground below.
The suspect's name was not released by the SAPD.