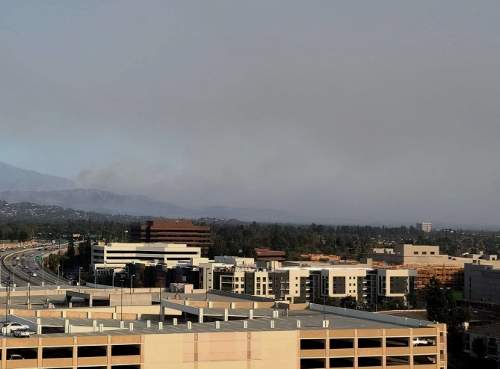 Due to nearby wildfires, the air quality in Santa Ana and much of Orange County is considered "hazardous" by the South Coast Air Quality Management District.

The AQMD advises a "health warning of emergency conditions. The entire population is more likely to be affected. Everyone should avoid all physical activity outdoors." If you can smell smoke or see ash from a wildfire, avoid or limit outdoor activities.

The City of Santa Ana is closing public swimming pools, Boo at the Zoo and other outdoor City activities until the air quality improves. Today's Santa Ana CARES Mobile Resource Center at Adams Park is ending early in order to protect the health of the public and City staff.

No evacuation orders have been issued for Santa Ana.

The National Weather Service has also issued a high-wind warning in our area until 2 p.m. Tuesday, Oct. 27. Please be cautious of downed trees, debris and power lines, low visibility caused by dust, and risks to high-profile vehicles.

The NWS advises that people avoid being outside in forested areas and around trees and branches. If possible, remain in the lower levels of your home during the windstorm, and avoid windows. Use caution if you must drive.

To report downed trees and debris, call the Santa Ana Public Works Agency at (714) 647-3380, email PWADispatch@santa-ana.org or download the mySantaAna app.

For downed power lines, call 911.

Public Safety Power Outages are also possible.

The County of Orange's Emergency Operations Center has a public information hotline for wildfire-related questions: (714) 628-7085.

Get air quality updates at www.aqmd.gov/home/air-quality.

Instructions:
Stay indoors if possible and avoid all physical activity outdoors. Avoid trees and use caution when driving.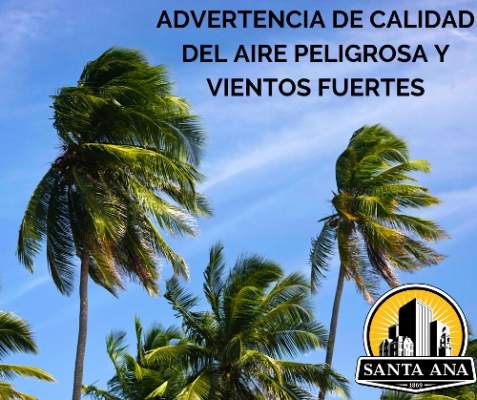 Permanezca en el Interior y Limite la Actividad al Aire Libre
Debido a los incendios forestales cercanos, el Distrito de Administración de la Calidad del Aire de la Costa Sur (AQMD) considera "peligrosa" la calidad del aire en Santa Ana y gran parte del Condado de Orange.
La AQMD aconseja una "advertencia sanitaria de condiciones de emergencia. Es más probable que toda la población se vea afectada. Todo el mundo debería evitar toda actividad física al aire libre". Si puede oler humo o ver cenizas de un incendio forestal, evite o limite las actividades al aire libre.
La Ciudad de Santa Ana cerrará las albercas públicas, Boo en el Zoo y otras actividades al aire libre de la Ciudad hasta que mejore la calidad del aire. El Centro de Recursos Móvil CARES de Santa Ana de hoy en Adams Park está terminando temprano para proteger la salud del público y del personal de la Ciudad.
No se han emitido órdenes de evacuación para Santa Ana.
El Servicio Meteorológico Nacional (NWS) también ha emitido una advertencia de fuertes vientos en nuestra área hasta las 2 p.m. el martes 27 de octubre. Tenga cuidado con los árboles caídos, los escombros y las líneas eléctricas, la baja visibilidad causada por el polvo y los riesgos para los vehículos de alto perfil.
El NWS aconseja que las personas eviten estar afuera en áreas boscosas y alrededor de árboles y ramas. Si es posible, permanezca en los niveles más bajos de su casa durante la tormenta de viento y evite las ventanas. Tenga cuidado si debe conducir.
Para reportar árboles caídos y escombros, llame a la Agencia de Obras Públicas de Santa Ana al (714) 647-3380, envíe un correo electrónico a PWADispatch@santa-ana.org o descargue la aplicación mySantaAna.
Para líneas eléctricas caídas, llame al 911.
También son posibles cortes de energía de seguridad pública.
El Centro de Operaciones de Emergencia del Condado de Orange tiene una línea directa de información pública para preguntas relacionadas con incendios forestales: (714) 628-7085.
Obtenga actualizaciones sobre la calidad del aire en www.aqmd.gov/home/air-quality.