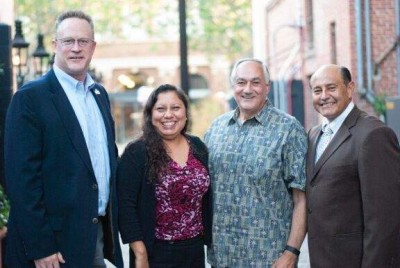 MOMS Orange County Hosts Dream Big Kick Off to Help Provide 400 Car Seats to Families in Need
Over 30 guests attended the Dream Big Kick Off Party at The Robbin's Nest Wine Bar in Downtown Santa Ana on Thursday, September 17, to begin the process of fundraising for MOMS Orange County and their Possible Dream as part of the Carousel of Possible Dreams presented by the Festival of Children Foundation. MOMS Orange County's Possible Dream in 2016 is to provide car seats to babies in their program who are most in need. Their goal is to raise $25,000 by November 12 to help purchase 400 car seats. In 2014, over 450 families in the program were in need of car seats that MOMS Orange County was unable to provide.
Guests took time to set up their personal fundraising pages on their mobile devices while enjoying select wines, beers and appetizers. Special guests included California Highway Patrol Car Seat Technician Nancy Coon, and former State Senator and U.S. Congress, 46th C.D. candidate, Lou Correa, who shared a personal story about a family who lost their youngest child as a result of not being in a car seat, and offered his support to help MOMS Orange County achieve their dream.
On November 12th, at The Disneyland Resort, top fundraisers from the 60 Orange County participating charities will board the King Arthur Carrousel for an exclusive ride while the park is closed to the public.
To help MOMS Orange County achieve their "possible dream," please click here.
About MOMS Orange County
For 23 years, MOMS Orange County has been helping at-risk mothers and their families have healthy babies by providing access to prenatal care, health screenings, infant development screenings, health education and referral services through monthly home visits and group classes. Mothers receive one-on-one education and support during pregnancy to help increase their chance of delivering a healthy baby. After babies are born, the focus turns to promoting their healthy growth and development so they grow up happy, healthy and ready to learn. To learn more about MOMS Orange County, visit www.momsorangecounty.org.
###