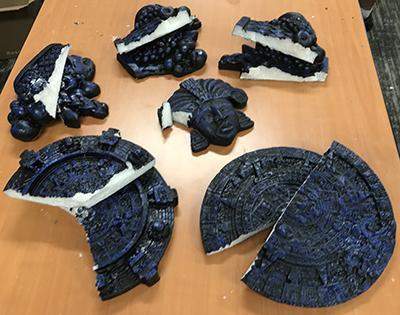 Department of Justice, U.S. Attorney's Office, Central District of California
FOR IMMEDIATE RELEASE: Tuesday, October 16, 2018
Methamphetamine Trafficking Ring Allegedly Shipped Drugs to Hawaii Disguised as Aztec Calendars and Statues
SANTA ANA, California – Federal authorities this morning arrested eight defendants named in a grand jury indictment that alleges a scheme to send methamphetamine to Hawaii, including nearly 12 kilograms of narcotics made to look like decorative Aztec calendars and statues.
Today's arrests follow the filing of a seven-count indictment on October 10. A ninth defendant charged in the indictment was already in federal custody on an unrelated case.
The indictment alleges a conspiracy to distribute methamphetamine, including an attempted shipment on July 17 of 11.7 kilograms of pure methamphetamine from a post office in Garden Grove. Those drugs were part of a nearly 90-pound shipment that appeared to be colorful, decorative Mexican items, including replicas of the 500-year-old Aztec calendar stone.
The indictment also alleges that members of the conspiracy, over the past year, sent to Hawaii a package containing about two pounds of methamphetamine and another with nearly five pounds of the drug.
All three of the narcotic shipments alleged in the indictment were intercepted by law enforcement.
The nine defendants named in the indictment are:
Felix Salgado, 28, of Perris, who allegedly obtained wholesale quantities of methamphetamine on behalf of the conspiracy;
Vaimanino Lee Pomele, 49, of Garden Grove, who allegedly orchestrated the drug shipments to Hawaii;
German Bastidas Nunez, also known as "Cheque," 46, of Moreno Valley, who allegedly supplied narcotics to Salgado and who was already in custody;
Fernando Caballero Rascon, 42, of Garden Grove, who allegedly purchased methamphetamine from Pomele;
James Arnold Borbon, also known as "Dino," 58, of Garden Grove, an alleged customer of the drug ring;
Moises Rey Avina, 39, of Santa Ana, who allegedly purchased methamphetamine from Pomele;
Gary Wayne Minter, 55, of Victorville, who allegedly used his residence as a stash house;
Alejandra Pomele, who is Vaimanino's wife; 44, also of Garden Grove, who allegedly delivered narcotics to a customer on at least one occasion; and
Stephen Dgewell Martin, 30, of Anaheim, who allegedly dropped off the shipment containing the methamphetamine disguised as Aztec calendars and statues at the post office.
The eight defendants taken into custody this morning are expected to be arraigned on the indictment this afternoon in United States District Court in Santa Ana.
An indictment contains allegations that a defendant has committed a crime. Every defendant is presumed to be innocent until and unless proven guilty in court.
If convicted of the charges in the indictment, each defendant would face a mandatory minimum sentence of at least five years in federal prison, and each potentially could be sentenced to decades in prison.
The matter is being is being investigated by the U.S. Immigration and Customs Enforcement's Homeland Security Investigations, the Drug Enforcement Administration and the Cypress Police Department.
This case is being prosecuted by Assistant United States Attorney Rosalind Wang of the Santa Ana Branch Office.