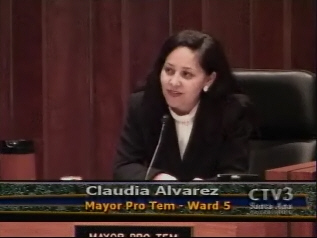 California's Attorney General, Kamala Harris, wrote a legal brief regarding local municipal term limits that should have a considerable bearing on tomorrow's hearing regarding Santa Ana Park and Rec Commissioner Max Madrid's lawsuit to compel the Santa Ana City Clerk to issue nomination papers to Mayor Pro Tem Claudia Alvarez.
In the brief, which is dated July 17, 2012, Harris concludes that "a term served on a town council that was served prior to the effective date of a local initative term-limit ordinance may not be counted against that term limit by that ordinance."
If the Judge makes a ruling based on Harris' legal brief then Alvarez should be able to run yet again for Santa Ana's Ward 5.
There is a separate issue that has been raised by local liberal bloggers who have it in for Alvarez, despite the fact that she too is a Democrat.  The argument is that Madrid does not have sufficient standing to bring this lawsuit to the court.  That seems ridiculous to me, as he is a resident and taxpayer.  However we will have to wait for the Judge to rule on that tomorrow, to be sure.
Should the Judge rule against Madrid tomorrow there are already two announced challengers for Ward 5, including SAUSD Trustee Roman Reyna, a Democrat, who has not yet pulled nomination papers; and Republican newcomer Karina Onofre, a local property manager.
If Alvarez cannot run for the City Council her options would include running for Mayor of Santa Ana, running for the Rancho Santiago Community College Board of Education, running for the SAUSD School Board, or simply leaving politics for awhile.