The Trauma Intervention Program of Orange County (TIP) is recruiting new volunteers for their 2023 Training Academy, which runs in the evenings from Jan. 26 to Feb. 4.
TIP is a group of specially trained volunteers who provide emotional first aid and practical support in the first few hours following a tragedy or traumatic event. TIP Volunteers are available 24 hours a day 365 days a year.
Becoming a TIP volunteer is a way of making a hands on difference in someone's life when they really need someone. TIP volunteers are often called upon to support someone at the very worse time in their lives.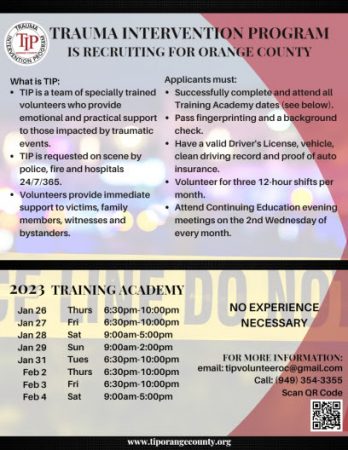 Over a 2 week period, you will go through an intense 55 hour training by certified TIP national trainers on Emotional First Aid and Practical Care Support. After completion, volunteers enter into a 3-Month Field Training Program where each trainee is paired up with a veteran volunteer. After the completion of the field training program, trainees graduate as TIP Volunteers. This ensures that all volunteers are well prepared and ready to respond to 911 Emergency Calls with confidence and assurance.
To learn more email tipvolunteeroc@gmail.com, or call (949) 354-3355.
About TIP
TIP of Orange County is a chapter of the Trauma Intervention Programs, Inc. (TIP), a national non-profit organization founded in 1985. TIP has 15 affiliates serving over 250 cities across the nation. In each Affiliate, citizen volunteers respond to traumatic incidents at the request of Police, Fire and Hospital personnel to support those who are emotionally traumatized.
TIP has received the prestigious Innovations Award in State and Local government from Harvard University and Ford Foundation, Crime Victim Service Award from the U.S. Justice Department, and the Governor's Victim Service Award from the State of California.
The Orange County Chapter of TIP was founded in 1995. There are currently 100 volunteers serving 27 jurisdictions, 15 hospitals, and 10 public safety agencies. The Chapter receives support and guidance from a local Advisory Committee.
TIP is a group of specially trained volunteers who provide emotional aid and practical support to victims of traumatic events and their families in the first few hours following a tragedy. TIP Volunteers are available 24 hours a day, 365 days a year. They are called by police officers, firefighters, paramedics, and hospital personnel to assist family members and friends following a natural or unexpected death; victims of violent crime including rape, assault, robbery, or burglary; victims of fire; disoriented or lonely elderly persons; people involved in motor vehicle accidents; people who are distraught and seeking immediate support; and survivors of suicide.