The 2013 Fiestas Patrias Parade was held this afternoon in Downtown Santa Ana.  This annual event is always well attended and despite the heat today there were a lot of people lined up along the parade route, which stretched along a route that ended on Civic Center, by the O.C. Courthouse.  Click here to see the pictures that are included in the video slideshow above.
The usual politicians showed up to ride in the parade including local elected officials such as Santa Ana Mayor Miguel Pulido and Santa Ana Council Members David Benavides, Michele Martinez and Vince Sarmiento.  There were also several legislators including State Senator Lou Correa, former Assemblyman Jose Solorio who is now a Community College District Trustee, Assemblyman Tom Daly and U.S. Representative Loretta Sanchez.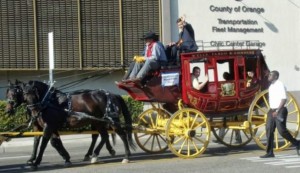 Republican politicians were there too including Orange County Supervisor Janet Nguyen, SAUSD Trustee Cecilia Iglesias and Assemblyman Don Wagner.  There was also a banner touting State Senator Mimi Walters but I didn't see her.  Click here to see some of those pictures or you can view the video slideshow above.
But the parade is not about politicians it is instead a celebration of Mexican and Latin American independence.  Each of the Mexican states was represented by floats, cars and marchers and there were also high school marching bands and community and youth organizations in the parade.
I'll tell you what really blew my mind.  A group of horse riders marched through the parade dressed as Mexican freedom fighters, complete with rifles.  It is very sad.  The country that gave birth to brave warriors like Pancho Villa and Emiliano Zapata also took away most gun rights from the Mexican population.  In 1971, Article 10 of the present Constitution was reformed to limit the right to keep arms within the home only (in Spanish: …derecho a poseer armas en su domicilio…) and reserved the right to bear arms outside the home only to those explicitly authorized by law (i.e. police, military, armed security officers). The following year, the Federal Law of Firearms and Explosives came into force and gave the federal government complete jurisdiction and control to the legal proliferation of firearms in the country; at the same time, heavily limiting and restricting the legal access to firearms by civilians.
You can make a decent argument that the last two Mexican elections were fixed.  So yes the country remains free – but not really.  When you stop to think about it there really isn't much to celebrate except for the hope that Mexicans will one day enjoy the freedom and opportunity that we do here in the U.S.  Although the current U.S. President and Congress have eroded much of our own liberty over the past dozen years or so.