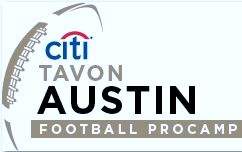 FOR IMMEDIATE USE
CONTACT: Hallie Kantor, ProCamps Worldwide, 513.745.5873, hkantor@procamps.com
TAVON AUSTIN SET TO HOST INAUGURAL YOUTH FOOTBALL PROCAMP
Santa Ana, CA – Los Angeles Star Wide Receiver Tavon Austin is set to host his inaugural youth football ProCamp.
The two-day Citi Tavon Austin Football ProCamp presented by SunnyD will be held on July 12th & 13th from 9:00 AM – 12:00 PM at Segerstrom High School in Santa Ana, CA.
Participants will learn fundamental football skills and have the opportunity to meet and interact with the star wide receiver. Each camper will receive an autograph from Tavon and a team photo with Tavon.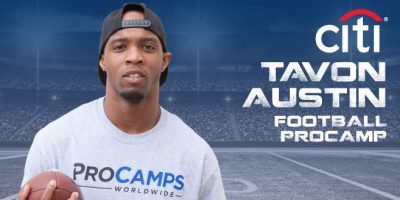 Austin will be on-site to direct the event and will be joined by a selection of prep and college coaches from the area. The camp is open to boys and girls of all skill levels in grades 1-8. Cost of the camp is $149. Citi cardmembers receive 20% off of camp
tuition.
The camp's premier partners are Welch's Fruit Snacks and Ralphs. Event partners include Everlast, Wilson, Pronto Print, Fan Mug, Chick-fil-A, Hatton Foundation, and Garth Brooks Teammates For Kids Foundation.
Limited spots remain at TavonAustinCamp.com.
About ProCamps
Founded in 1998, ProCamps is a best-in-class event management and sports marketing company specializing in developing, managing, and operating camps, appearances, brand activations, and related experiences for professional athletes and coaches in the NFL, NBA, MLB, NHL, MLS, PGA, ATP, NCAA, NASCAR, WPSL, MLL and NFHL. ProCamps
helps Fortune 500 brands activate and execute more than 175 events across the country to effectively deliver brand messaging to thousands of parents, kids, and coaches via retail promotions, TV/radio/print, social media, and on-site activations.
# # #