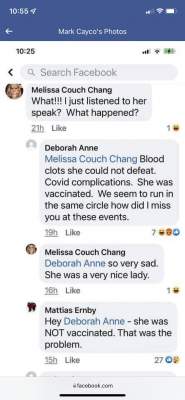 Axel Mattias Ernby, the widower of OCDA Deputy District Attorney Kelly Ernby, who passed away recently from COVID-19 complications, has confirmed that she was not vaccinated against COVID-19. He wrote "that was the problem" on his Facebook page.
Anti-vaxers were quick to blame the vaccine for Ernby's death but her husband debunked those claims.
"Please stop spreading lies about Kelly Ernby," the widower wrote on at least one Facebook post about his wife's death.
Ernby died at the age of 46. She had been a vocal opponent of vaccine mandates, on her Twitter page.
While Ernby's death is tragic we can only hope that it will inspire people to get the COVID-19 vaccine.
Click here to find out where you can get the COVID-19 vaccine in Orange County.