The GOP is so unpopular in Santa Ana that a Latina candidate who is challenging Congresswoman Loretta Sanchez is running as an independent, although her views appear to be somewhat Republican in nature. Her name is Cecilia "Ceci" Iglesias.
Iglesias has already found out that running for office can expose you to creepy attacks. A Liberal OC blogger ripped Iglesias today in a post over at the Liberal OC blog – and he actually published her home address. I don't know that Iglesias has qualified as a candidate for Congress, but thanks to the Liberal OC, her address is now out there for all to see, and her family has been put at risk.
Memo to the LOC – Iglesias has a right to run for Congress. That does not give you the right to publish her home address. That is irresponsible and threatening. If anything happens to Iglesias, her family or her property the S.A.P.D. will be calling you!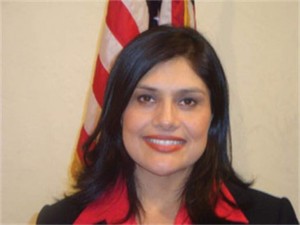 So why is the LOC so threatened by Iglesias? Good question. It's not like an independent candidate has much of a chance of winning in the 47th, but she would be dangeroud in the general election. If Quang X. Pham wins the primary, against corrupt Assemblyman Van Tran, he will benefit in the general from Iglesias' presence on the ballot. She will take female votes and Latino votes away from Sanchez.
That is why the LOC went ballistic today.
Let's examine Iglesias' views, which are on her website:
Economic Recovery – The economy is the engine to our nation's future. I will work tirelessly to help create more jobs by supporting small businesses, local initiatives and our communities to increase the economic vibrancy of the 47th Congressional District. This is vital to every family and individual who lives here.

Education – Access to world-class education is essential to America today and for every generation to come. Our students must be better equipped to compete in a rapidly-changing global economy. It is our responsibility to ensure every child has textbooks, smaller classrooms and teachers who are rewarded for achieving better results.

Higher Education – Education is vital to America's future. But with the cost of higher learning increasing and student loans difficult to obtain, a new solution is needed. A solution can be a Mentoring Scholars Program that would allow students to qualify for tuition assistance in exchange for them mentoring younger students in our public schools. In doing so, we would see an increase in the number of students who can obtain a college or university degree while at the same time reduce the drop-out rate. Rather than end up with a pile of debt, Mentoring Scholars will graduate with a wealth of hands-on experience helping others in their own communities.

National Security – Our National Defense requires a comprehensive approach from addressing critical decisions for our Armed Services deployed in Iraq and Afghanistan to our border security here at home. Also, we must empower our community leaders and law enforcement to make our streets safe from drugs, gangs and graffiti.

Immigration Reform – This is one of the most divisive issues facing us today and requires that we come together to resolve it. Inherent in a long-term solution must be stopping human trafficking for labor and exploitation while also respecting the immigration laws of our country.

Affordable Child Care -Working parents are a very important part of our economy because they increase productivity and add to our tax rolls. The reality is that a bigger and bigger portion of their earnings goes to pay for child care. Many parents feel its not worth working because of the cost of child care and the sacrifice of quality time with their children. To encourage parents to continue working, we must find ways to invest in keeping them on the job. A solution can be increasing the child care tax credit that reflects the real cost of child care today. It is vital that we keep parents working and contributing to the economy. By doing so, we will prevent additional costs to taxpayers through social assistance programs.
Is Iglesias qualified to run for Congress? She is a college graduate. She "graduated from Santa Ana Valley High School in 1990 and received a Bachelors of Science in Human Services from Cal State Fullerton in 2001," according to her online bio.
And Iglesias has plenty of community and civic experience, including:
Serving as a Board Member for the Santa Ana Youth Council, Workforce Investment Act (WIA).
Iglesias was a poll worker for the Registrar of Voters
She walked for the 2000 Census
And Iglesias led a Voter Registration Project for Santa Ana and Garden Grove
She is also the founder and CEO of the Santa Ana Family Emp0owerment (S.A.F.E.) non-profit organization.
And she is actively involved in the Windsor Village Neighborhood Association, in Santa Ana
If you are interested in getting involved in Iglesias' campaign, click here. You can also email her by clicking here. And you may call her at 714-486-1055.