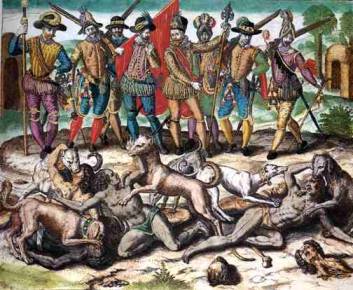 I got a phone call tonight, on my cell phone, from a young lady who said that Santa Ana Mayor Pro Tem Claudia Alvarez should "learn English" and "go back to Mexico."  The caller blurted out something about the Holocaust and then hung up.
I was left wondering if the anonymous caller knew anything about the Native American Holocaust?  Or that Alvarez, like 60% of modern Mexicans and Mexican Americans, is a Mestizo – which means she is descended from Native Americans and the Spanish who conquered Mexico.  (Another 30% of today's Mexicans are thought to be Natives even today – in fact many of these people still speak only their native tongues).
Alvarez erred by comparing Santa Ana business owner and developer Irv Chase to Adolf Hitler – but she was trying to make a valid point – that Chase has systematically profited over the years by partnering with former Santa Ana City Manager Dave Ream to squeeze Latinos out of Downtown Santa Ana.  Chase's purchase of the Yost Theater, which Ream arranged to have effectively stolen from the Olivas family, is but one such example of this.
Did the Chase family suffer in Germany during WWII?  Yes, regrettably they did.  In fact six million European Jews and other minorities, such as gays and Gypsies, were killed during WWII, in what is now known as the Holocaust.  This was not the first time Jews were targeted in Europe.  Spain expelled them during the Inquisition, killing many in the process.  Some of them ended up in Mexico.
But a far more horrific genocide occurred in Mexico, and the rest of the Western Hemisphere – when over 90 million Native Americans were killed, by disease and guns.  The Spanish conquistadors destroyed the Aztec Empire – enslaving their victims and setting up a caste system that saw the Natives end up on the very bottom of the new Mexican society.
The Spanish murdered with complete abandon – and raped at will.  But what the Americans did to the Native Americans was just as bad:
The English poisoned the wine at a "peace conference" with Powhatan leaders, killing about 200; they killed another 50 manually
English colonists commanded by John Mason (c.1600–1672), with Mohegan and Narragansett allies, launched a night attack on a large Pequot village on the Mystic River in present-day Connecticut, burning the inhabitants alive and killing the survivors, with about 600–700 killed.
In New Netherland, at present day Pound Ridge, New York, John Underhill, hired by the Dutch, reproduced the successful Fort Mystic strategy of burning a sleeping village, killing about 500 Indians.
In retaliation for the rumored murder of a captured Stockbridge man and detainment of Rogers' Rangers Captain Quinten Kennedy, Major Robert Rogers led a party of approximately 150 English regulars, volunteers and Mahicans into the village of Odanak, Quebec. They killed up to 30 people, among them women and children, as confirmed via conflicting reports.
Pennsylvania settlers killed 20 peaceful Susquehannock in response to Pontiac's Rebellion.
Nearly 100 non-combatant Christian Lenape, mostly women and children, were attacked by Pennsylvania militiamen. All were killed and scalped except two young boys.
U.S. troops attacked a non-hostile Muscogee village during the First Seminole War, killing an estimated 10 to 50 men, women and children.
The murder of 60–100 Pomo people on Bo-no-po-ti island near Clear Lake, (Lake Co., California), by Nathaniel Lyon and his U. S. Army detachment, in retribution for the killing of two Clear Lake settlers who had been abusing and murdering Pomo people. (The Island Pomos had no connections to the enslaved Pomos). This incident led to a general mass killing of native people all over Northern California.
…I could go on with such examples forever – but I think you get the point.
How many of the white Republicans now attacking Alvarez are descended from the very killers who massacred Native Americans with glee?
The fact is, Mexicans know all too well what genocide is all about.  Some of us have known it in both the Old and the New World.  My maternal Great Grandfather was a Sephardi Jew, whose family fled Spain during the Inquisition.  But my maternal Great Grandmother was a full blooded Native American, who was forced to marry a Spanish rancher in Texas at the young age of 14.  She later escaped, taking my maternal grandfather with her, to Mexico, where she ended up living in one of Pancho Villa's camps.  She later became a curandera, a Mexican healer.  My grandfather was always very proud that he was born an American.
Mexicans are full of such stories.  One of these days I will have to sit down with Alvarez and find out where her family came from, and what they endured on the way to the U.S.
Alvarez is no anti-Semite, that I know for sure.  I also know that she came here at a young age, from Mexico, and eventually went to law school, became an attorney and then ended up working in the O.C. District Attorney's office, as a prosecutor.  We should all be proud of her success – nothing was ever handed to her.  She had to work to get where she is today.
Minuteman Lupe Moreno ripped Alvarez today in the O.C. Register.  That figures.  Moreno hates her own people.  That she would call Alvarez out is complete hypocrisy considering that Moreno wants to deport all the Mexicans who are here in the U.S. today.
Doesn't Moreno realize that this hemisphere once belonged to our Native American ancestors?  Doesn't she know they were murdered by the Europeans?  I guess not.
Don't forget that Moreno is an appointed member of the OC GOP Central Committee, which Thomas Gordon, another Alvarez critic, was reelected to last year.  Racism and hatred of Mexicans is part and parcel of everything that party does.
That Moreno thinks it is OK to rip Mexicans tells you all you need to know about her – and all of the other white Republicans, and their fake liberal allies, who are now calling on Alvarez to resign.
Of course she should not resign.  How silly.  Does she need to choose her words more carefully?  Sure, but Chase is by no means the only guy in town whose ancestors suffered greatly at the hands of Europeans…