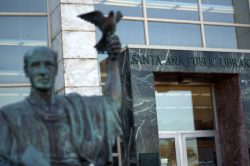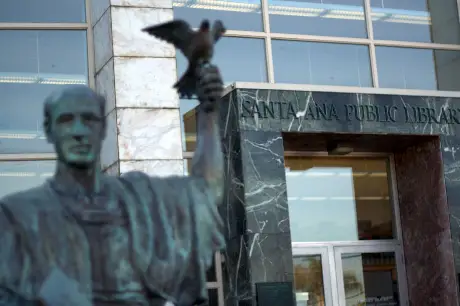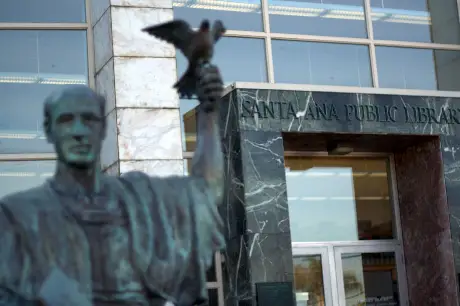 New California Gov. Jerry Brown, facing tremendous budget problems, has proposed a statewide budget that eliminates state spending on public libraries entirely. Those cuts amount to around $30 million, according to the L.A. Times.
If Brown's budget is passed as is, it will eliminate state funding for the Public Library Foundation, Transaction Based Reimbursement and the California Library Literacy and English Acquisition Service. Public libraries across the state also receive funding from other sources.
I don't know how this will impact the Santa Ana Public Libraries, or the Orange County Public Libraries, but it doesn't sound like good news.
I recently proposed opening the Santa Ana Public Libraries later, during the week, in order to open on Sundays, but with Brown's budget cuts pending, it may be difficult to keep the hours we have now.
The sad thing is that the State of California could easily make up its budget deficit, if Brown were willing to really get out of the box, as follows:
Dump the death penalty.  It is a huge waste of money thanks to endless appeals by those on death row.  Put them in prison for life and stop wasting money on lawyers!
Reform three strikes to include only violent felonies – the more people we put in prison, the more we have to spend on a bloated prison budget that already is larger than the combined budget of all our state colleges and universities!
Make gambling legal and tax it.  Why let all that money go to Las Vegas and the Indian tribes?
End the drug war and tax the sale of drugs.  Treatment should be offered to users instead of incarceration, as they do in Europe.
Take cars paid for by taxpayers away from state legislators and their staffers.
Reduce our state legislature to part-time, as they do in Texas.
Get rid of retirement at 50 for public employees.
These reforms would save our budget and stop Brown from cutting so many needed services.  But, sadly, I doubt he has the spine to pursue such a Libertarian budget policy.
The President of the California Library Association responded to Brown's proposed cuts in this press release:
CLA President's Response to Governor Brown's Proposed Elimination of $30.4 million in State Funding for California Public Libraries
For Immediate Release
Tue, 01/11/2011 – 4:00pm
Contact: Holly Macriss, CLA Executive Director, (916) 233-3298
Paymaneh Maghsoudi, 2011 CLA President and Director, Whittier Public Library, (562) 464-3452
Folsom – Gov. Jerry Brown's 2011-2012 budget proposes eliminating $30.4 million in state funds for the Public Library Foundation, Transaction Based Reimbursement and the California Library Literacy and English Acquisition Service. These cuts eliminate all state funding for California public libraries. Paymaneh Maghsoudi, California Library Association (CLA) President and Library Director of the Whittier Public Library, released the following statement regarding the proposed reduction of funding for California's public libraries.
"The revelation yesterday that Governor Brown is proposing to eliminate all $30 million in state funding for three of California's most valuable public library programs – the Public Library Foundation, Transaction Based Reimbursement, and the California Library Literacy program, is both disastrous and disheartening. Since the early 2000's, public libraries have been one of the hardest hit segments of local government, with deep reductions totaling more than 75% made to these programs by the previous two Governors combined. We understand fully California's dire Budget situation and the challenges of the recessionary economy, but the public libraries have done more than their share to assist with the Budget deficit over the years by absorbing painful cuts. The time has come to stop the bleeding and CLA respectfully asks the members of the legislature to oppose these proposed cuts to our valuable programs.
The proposed cuts unveiled by the Governor will not only jeopardize library hours, staff positions, and the availability of books and materials, they will also potentially dismantle the cooperative system of borrowing and loaning books, known as Transaction Based Reimbursement (TBR), that has existed statewide for over three decades. Incidentally, a cut of this magnitude to the TBR could make the state ineligible for the federal match that is a part of this program. Lastly, in 2007 alone, more than 20,000 adult learners participated in the state literacy program, benefitting native English speaking adults who have never learned to read, or the K-12 schooling system has failed them. The elimination of the state funding for this program would be truly heartbreaking for individuals and families who desperately need this assistance.
While state funding for libraries has decreased, door counts continue to rise at an amazing rate for most libraries and library branches, and staffs are stretched to capacity. In this difficult economy, libraries are a safety net for many people who have lost their home or jobs and are using their local library to write resumes, attend workshops on credit repair, and utilize free access to high speed Internet to look for work or do research. Public libraries assist our K-12 school children with the necessary tools to help expand their education, such as literacy programs, Homework Help centers, books for school assignments, etc. The timing couldn't be worse for the Governor's proposed $30 million cut to public libraries."
The California Library Association was established in 1895 and currently has 3,000 members consisting of librarians, library employees, library students, friends groups and trustees, businesses, institutions, and members of the general public.
The State's Education Code notes that there should be "permanent, stable, and predictable financing for public libraries of the state through a combination of state and local revenues." The Code further reveals, "…the public library is a supplement to the formal system of free public education, and a source of information and inspiration to persons of all ages, cultural backgrounds, and economic statuses, and a resource for continuing education and reeducation beyond the years of formal education, and as such deserves adequate financial support from government at all levels."
###