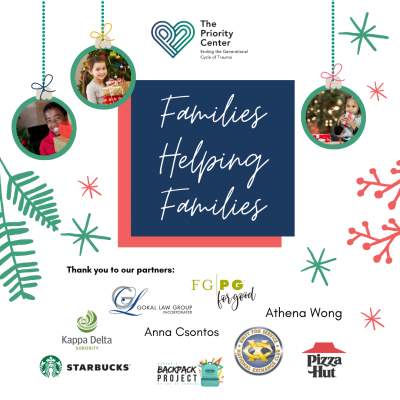 The Priority Center of Santa Ana will distribute holiday gifts to some of the neediest Orange County families in its program with a drive-through holiday experience on Saturday, Dec. 12, 2020 from 8 a.m. to 6 p.m.
The event will take place at Freddie Georges Production Group HQ Parking lot, warehouse, docks and ramp at 15362 Graham St., Huntington Beach, California.
More than 270 families are participating this year, up nearly 100 percent from 2019's event. Approximately 140 families received children's gifts and gift cards last year. The dramatic increase in need has been attributed to the economic devastation triggered by COVID-19.
The Priority Center will distribute nearly $130,000 worth of gifts for the children and gift cards for food and other basic necessities during the drive-through event. Families will stay in their cars and wear masks. Gifts and gift cards will be placed in the trunks of their vehicles for contactless delivery.
The funds for the gifts and gift cards were raised by families who participated in The Priority Center's annual "Families Helping Families" holiday program. This is the first-ever drive-through distribution for The Priority Center.
Volunteer "Santas" will work in three shifts to distribute the gifts to the families. All volunteers will wear masks and gloves and their temperatures will be taken. All volunteers, families, staff and other participants are required to adhere to state and county health and safety guidelines.
The annual "Families Helping Families" holiday program has assisted Orange County families for the past 17 years. Each year, the families provide a wish list. Individuals, companies and other families "adopt" these Priority Center families by donating funds which are then used to purchase the children's gifts and family gift cards.
The 2020 coronavirus pandemic has had a devastating effect on these families, some of which were already living paycheck to paycheck. People have lost their jobs and exhausted their savings. For them, it's a matter of choosing between paying rent and utilities or buying food. Money for holiday gifts for their kids is not an option.
Some of the most popular gift items requested this year by the children include video games, dolls and toys. Others simply want warm socks, a jacket or pair of shoes.
Formerly known as the Child Abuse Prevention Center, The Priority Center serves at-risk children, adults and families in crisis to prevent and break the generational cycle of trauma and abuse. The Priority Center also works with adolescents and adults in crisis with mental illness and suicidal ideations who need intervention services. Established in 1983, the center matches families at risk of abuse with professional caseworkers who work with them directly within their homes. The center employs 125 professional staff members, two-thirds of whom provide direct services to individuals in need. In 2019, the center's programs served more than 6,000 individuals in crisis and families. The center's corporate office is located at 1940 E. Deere Ave., Suite 100, Santa Ana, California.
For nearly two decades, the woman-owned production group FG/PG has defied the ordinary leading the experiential marketing arena. The privately held production group creates award-winning work for global companies such as Facebook, Tito's Homemade Vodka, Fortnite, Netflix and LEGO. The company is motivated by a profound desire to give back to the community and has established #fgpg4good as its corporate giving and volunteer initiative. FG/PG proudly partners with such organizations as Ronald McDonald House Charities, The Priority Center, Susan G. Komen and Wounded Warrior Project, to name a few.