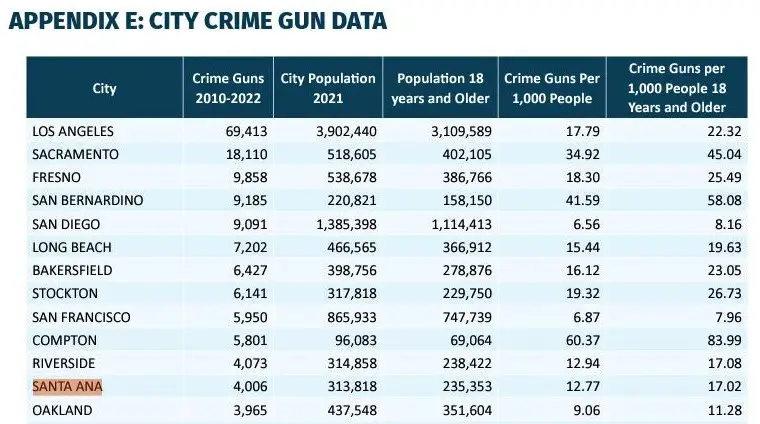 Over 4,000 crime guns were recovered in Santa Ana by the SAPD since 2010 according to a new report by the State of California.
The report defines crime guns as firearms recovered by a law enforcement agency after they are either (1) used in a crime, (2) suspected to have been used in a crime, or (3) are illegally possessed.
To make matters worse the California Dept. of Justice identified 85,402 crime gun records without a serial number between January 1, 2010 and December 31, 2022 according to a report released in April. That likely means these were either antiques, or they had the serial number illegally removed or they were homemade guns referred to as ghost guns.
Unserialized crime guns more than doubled in California between 2019 and 2020 and almost doubled again between 2020 and 2021 before falling by 7% in 2022.
Santa Ana has approximately 12.77 crime guns for each 1,000 residents and that number gets even higher when looking at residents over 18, who have 17 crime guns for each 1,000 residents.
The crime gun figures in Santa Ana are on par with those in Riverside, CA and just below Long Beach, CA which has over 15 guns for each 1,000 residents. L.A. leads the state with almost 18 guns for each 1,000 residents.
The U.S. Congress passed the landmark Bipartisan Safer Communities Act (BSCA) last June, which addressed the proliferation of untraceable and unlawful "ghost guns" that threaten public safety; providing more resources to federal, state, local, and Tribal law-enforcement partners on the front lines; and adopting other common-sense reforms that keep guns out of the wrong hands.  (Source: Dept. of Justice)
The BSCA also expanded background checks to include juvenile criminal and mental health records and local law enforcement contacts for prospective purchasers under the age of 21.
BSCA also narrowed the so-called "boyfriend loophole" by expanding restrictions on firearm purchases by those convicted of misdemeanor crimes of domestic violence to include those convicted of assault in a "dating relationship."
The BSCA also created new criminal offenses for unlawfully trafficking in firearms and for straw-purchasing a firearm on behalf of a prohibited person, and it expanded the definition of "engaging in the business" of dealing in firearms.
The BSCA also authorized a total of $1.4 billion in funding for new and existing violence-prevention and -intervention programs between 2022 and 2026. The Department has awarded more than $231 million in Byrne State Crisis Intervention Program grants that will fund state crisis intervention programs, such as drug, mental health, and veterans' treatment programs and extreme risk protection orders that will keep guns out of the hands of those who pose a threat to themselves or others.
The State of California has also been trying to curb gun violence. The State passed a new law last year that requires parts used to build firearms to have serial numbers, and gives Californians who have weapons without serial numbers until January 1, 2024, to register them and add the numbers.
As of January 2023, anyone convicted of manufacturing a firearm without a serial number, or aiding the manufacture of a firearm by a prohibited person, will be barred from possessing a firearm for 10 years.
Gov. Newsom also barred marketing firearms to minors, with a civil penalty of up to $25,000 for each violation. It allows people harmed by violations to sue for damages.
In 2006, California became the first and only state in the nation to establish a system for tracking firearm owners who fall into a prohibited status. The APPS database works to identify individuals who procured firearms and later became prohibited from legally owning them.
In general, prohibited persons in APPS include individuals who were convicted of a felony or violent misdemeanor, were placed under a domestic violence or other restraining order, or suffer from serious mental illness.
Through the APPS program in 2022, DOJ recovered 1,437 firearms — including 712 handguns, 360 rifles, 194 shotguns, 80 assault weapons, 54 ghost guns, 43 receivers or frames, 3 short-barreled shotguns, and 1 machine gun. Agents also seized 308 large-capacity magazines, 2,123 standard capacity magazines, and 281,299 rounds of ammunition through APPS enforcement actions.
As of January 1, 2023, there were 3,347,221 known registered firearm owners in California of which 23,869 are prohibited from owning or possessing firearms, making up less than 1%.
Key statistics from the 2022 report include:
DOJ recovered 1,437 firearms as part of the APPS program in 2022. Of these, 916 were firearms identified in the APPS database and 521 were not previously known to be associated with a prohibited individual in APPS.
Agents seized 54 ghost guns, a 38% increase from 2021, and a 575% increase since 2018, when DOJ seized 8 ghost guns.
In 2022, DOJ investigated approximately 7,946 individuals who were identified as armed and prohibited persons in the APPS database.
More individuals were removed from the prohibited list than added in 2022. Of the 9,917 prohibited people removed from the APPS database this year, 3,598 removals were the result of enforcement efforts – 377 more removals compared to 2021, an increase of almost 12%.
In response to the overall increase in ghost gun seizures across the state, BOF will be expanding its investigative efforts focused on ghost guns. DOJ is actively working with law enforcement partners to establish collaborative investigative efforts aimed at addressing ghost gun activity.
In 2022, the Federal Department of Justice recovered 25,785 ghost guns in domestic seizures, as well as 2,453 through international operations. So far in 2023, the Department has recovered more than 10,000 PMFs domestically and 1,000 internationally. These recoveries come on the heels of newly announced Department regulations that modernize firearm definitions to curb the proliferation of ghost guns.