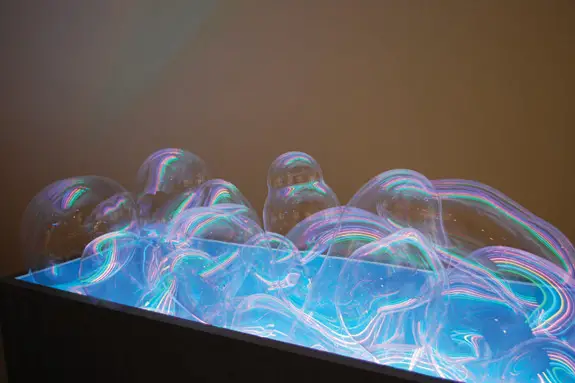 GRAND CENTRAL ART CENTER
Downtown Santa Ana, CA, a unit of Cal State University Fullerton's College of the Arts
INFORMATION BELOW ON:
RIDE November 5, 2011 – January 15, 2012
SUNDOWN SPECTACLES: HIROMI TAKIZAWA, November 5 – December 31, 2011
OPENING RECEPTION: Saturday, November 5, 7:00-10:00 p.m.
FIRST SATURDAY ART WALK : Saturday, December 3, 7:00-10:00 p.m.
DETAILS:
RIDE November 5, 2011 – January 15, 2012
http://www.grandcentralartcenter.com/ArtGallery_gcartgallery.php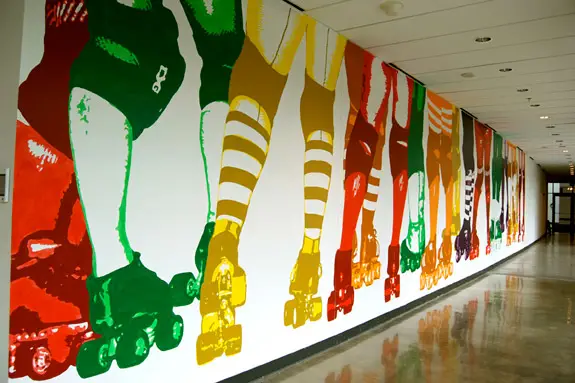 Image Credit: Cory Oberndorfer
For three years while planning this exhibition I roller-skated to commute.-Curator, Elle Seven Nationwide, passionate riders of every kind are blazing trails through the roads, on the track, and off the ramps.
People are expressing passion by modifying societal solutions, crafting bikes, roller skates, skateboards and mobile movements all their own. These DIY rides are changing America one mile at a time.
Roll through streets with Southern California residents who flood car-centric boulevards on bicycles. Transcend with Apache Skateboards who develop warrior spirits through art and skateboarding. Witness lowrider custom culture evolve from inner cities to galleries. Glide over urban highways and under city streets on mass transit.
Swing around tracks with roller derby divas inspiring grown women worldwide to fall and then get up again.  More than trends in motion, these communities survive by reclaiming space through creativity and adapting to the environment being built up around them.
ARTISTS:
Artists in the exhibition include Tommii Lim, Douglas Miles, Kyle Mcquilkin, Cory Oberndorfer andNick Wildermuth.Don't just be a passive bystander. Bring your best R I D E to the show and be a part of the mobile movement.
OPENING PERFORMANCE: Riders from Apache Skateboards will be creating a half-pipe performance throughout the opening reception.
ORGANIZED RIDE TO THE OPENING:  You too can make a difference and ride to the exhibition that is a part of a massive shift in society.There will be a round trip bike ride organized from downtown Long Beach to downtown Santa Ana.
Click here for a link to a map of the planned route.
SUNDOWN SPECTACLES: HIROMI TAKIZAWA
November 5 – December 31, 2011.  http://www.grandcentralartcenter.com/ArtGallery_Project.php
PROJECT ROOM GALLERY:
Hiromi Takizawa was born and raised in Nagano, Japan. She attended California State University, Fullerton where she earned a BA and MA. Hiromi has also studied at Santa Ana College, California State University San Bernardino, Pilchuck Glass School, The Studio at The Corning Museum of Glass and Haystack Mountain School of Crafts. Her work has been featured in solo and group exhibitions nationally and internationally, most recently featured in a solo exhibition at Heller Gallery in New York.
PARKING: Car Parking on 3rd Street (structure @ Sycamore) / Bike Parking on 2ndDrivers are being asked to carpool or take public transportation
GALLERY HOURS:
Closed Mondays and Holidays
Tuesdays – Sundays 11.00 am – 4.00 pm.
Extended hours: Friday & Saturday 11.00am – 7.00 pm.
(First Saturday of the month galleries are open until 10.00 pm)
http://www.grandcentralartcenter.com/maps.php
We look forward to having you join us!
Grand Central Art Center
a unit of Cal State University Fullerton's College of the Arts
125 N. Broadway
Santa Ana, CA 92701
t. 714.567.7233
w. http://www.grandcentralartcenter.com
fb. https://www.facebook.com/pages/CSUF-Grand-Central-Art-Center/44510429914
NOTE: Grand Central Art Center Director/Chief Curator John Spiak has provided e-nnouncements to the public since1994, first as a
curator at the Arizona State University Art Museum and now for Grand Central Art Center.