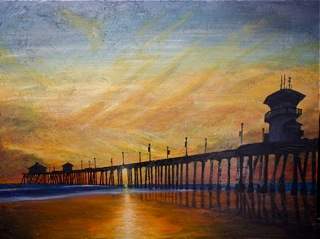 For Immediate Release
Contact: Jaydee Dizon, jdizon@gallery207.org
Gallery 207 Celebrates Southern California's Beach Culture
Summer has ended, yet most of us can't seem to get out of this Southern California's heatwave! If it wasn't for our Golden State beaches, it would have even been an unbearable 3 digit heat. This October, Gallery 207 introduces artists who are inspired by our surrounding beaches and seaside.
Representative paintings for the ocean lifestyle by Jason Kuncas. And a unique approach by artist, Doughlas Cross, as he displays a "series of mixed media sculptures, utilizing salvaged and damaged surfboards as a canvas. The pieces reflect two inspiring ideas: Bringing new life to retired surfboards, and Celebration of surf culture."
Stop by and join us at the Artist Reception on Saturday, October 6th from 6-10 PM at Gallery 207/ Raven Studios, 207 N. Broadway St. Suite E, Santa Ana 92701!
Artist Members of Gallery 207 artworks on display:
Calvin Pennix, Aritst. current series "Wavelength," explores interaction
Ben Walker, a self taught Artist/Painter. New Series, The Drag Queen Killer.
Shelly Stokes, Photographer. Captures the 2011 Pasadena Windstorms
Katie Harding, Artist and Teacher paintings with rich and bold colors, rhythmic line movement and surrealistic themes invoking an eerie mood
Ingrid Reeve, Painter. Abstract Landscape series…"memory of a landscape."
Krystof Andres, Photographer & Cinematographer's documentation of the earthquake
in Haiti 2010
Gallery 207 is dedicated in promoting traditional and contemporary artists from Southern and Northern California and plans to build relationships all over the US and internationally in the near future.
Gallery 207 / Raven Studios
207 N. Broadway Street, Suite E, Santa Ana, CA 92701
Closing Reception: Saturday, October 27th, 12-5 PM
First Saturday 6-10 PM, Remaining Saturdays 12-5 PM
Visit us on the web at http://gallery207.org for more information!
###