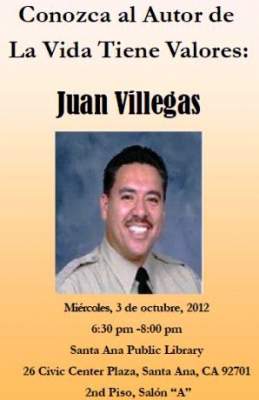 City of Santa Ana, Downtown Orange County Community Alert:
Santa Ana Public Library Welcomes Author: Juan Villegas
SANTA ANA, CA – The Santa Ana Public Library is pleased to present Juan Villegas, discussing his book, La Vida Tiene Valores (Life Has Value). Author Juan Villegas is the first Latino law enforcement officer to write an educational parenting book specifically for the Latino community. Mr. Villegas focuses on three major causes of juvenile delinquency: lack of parent leadership, violence at home, and child sexual abuse.
In his book, he encourages parents to become leaders in their homes, promoters of healthy living, and mentors for their children. He provides parents with tools to promote self-worth, and to encourage good moral standards and structure in their families. This will be a bilingual presentation and books will be available for purchase. Book is currently only available in Spanish, English translation is forthcoming.
The author's presentation will take place on October 3, 2012 from 6:30 p.m. to 8:00 p.m. in Meeting Room A, located on the 2nd floor of the Santa Ana Public Library.
THE SANTA ANA PUBLIC LIBRARY IS LOCATED AT: 26 CIVIC CENTER PLAZA (corner of Civic Center and Ross).
SANTA ANA, CA – La Biblioteca Pública de Santa Ana se complace en presentar a Juan Villegas, quien hablara sobre su libro, La Vida Tiene Valores. El autor, Juan Villegas, es el primer policía latino en escribir un libro educativo dirigido específicamente a los padres de la comunidad Latina. El Sr. Villegas plantea las tres razones primordiales responsables por la delincuencia juvenil, están son: carencia de liderazgo de los padres, violencia en el hogar, y abuso sexual. En su libro, él impulsa a los padres a convertirse en líderes en sus hogares, promotores de una vida sana, y mentores para sus niños. Les proporciona las herramientas para fomentar la autoestima en los hijos, impulsar buenas costumbres de conducta y como formar una estructura familiar. Esta presentación se ofrecerá en inglés y español. Copias del libro estarán disponibles para la venta. Actualmente, el libro solo se ofrece en español, la versión en inglés está por venir.
Esta presentación se llevara a cabo el 3 de octubre, 2012 empezando a las 6:30 pm hasta las 8:00 pm en el Salón "A", ubicado en el 2ndo piso de la Biblioteca Pública de Santa Ana.
####